An instrument is a major investment, one that requires protection both from the elements and accidental drops. You will eventually start with an alto sax and notice that they are particularly unwieldy compared to some other popular band instruments like flute or clarinet. So it's quite important to purchase a quality saxophone case soon after you begin your foray into the music scene.
You will find in your search that offerings are quite variable in price, material, sturdiness, design, and features. Thus, there's something out there for everyone's needs and budget – don't get discouraged if you don't find your perfect gig bag right away! 
Keep in mind that, as your instrument, the saxophone case will be something you'll likely keep for years to come. Spending time and a fairly significant amount of money on quality gig bags is part of being a musician.
 We give you several useful tips to consider when searching for an alto saxophone case. 
---
Features That You Should Look For on an Alto Sax Case
It's easy to get caught up in flashiness if you don't already have an idea of your preferences. Before you start searching, come up with a list of qualities that you consider indispensable. 
You might want an alto saxophone case with wheels or a strap. 
Perhaps the most important feature to you is being lightweight or having a shiny, colorful finish. Be sure to weigh features that are purely aesthetic wants against those that promote functionality or durability. You're likely to have this sax case for a long while; it should last.
Materials and Level of Protection
What to Look for on the Outer Materials
Outer materials can range from hard plastic to leather to a thick nylon composite fabric. There should be some component of protection against weather (a waterproof finish, airtight zipper) and being dropped (a hard shell, crack-resistant material). Similar to a piece of luggage, an optimal case will be hard to rip or crack, the zipper or clasps durable and easy to close.
What to Look for on Inner Materials
Inner materials usually include a firm, form-fitting foam, and a top layer of smooth fabric. There should be a compartment, whether a pocket or not, for your instrument and other components like extra reeds, music, and cleaning equipment. 
Evaluate How Will You Transport It
Most alto saxophone cases have a single handle with which you can carry your instrument parallel to the floor. If that doesn't suit you, select a case with wheels, a removable strap, or a backpack case. Consider your usual mode of transportation to determine which carrying method would be most convenient: if you're a bicyclist, an alto saxophone backpack case would make the most sense; if you travel by bus or car, a strap or handle would work well.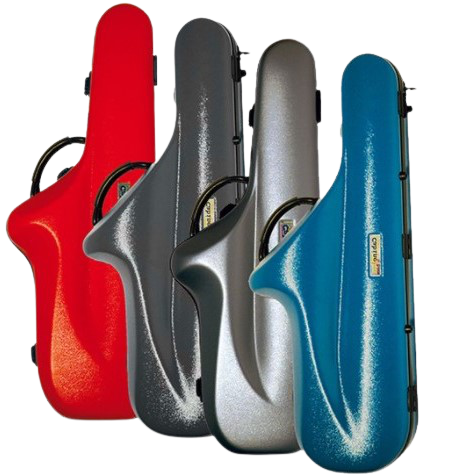 How Much Should a Saxophone Case Weigh?
Cases will vary in weight depending on the material, particularly their inner material. Be sure to find the weight in the product description or customer reviews. 
For a lighter case, choose one with foam padding rather than hard, dense material—cases that lack a foam layer tend to overcompensate with heavier protective materials.
What Design to Look For?
Cases will vary in weight depending on the material, particularly their inner material. Be sure to find the weight in the product description or customer reviews.
For a lighter case, opt for a lightweight design, with foam padding rather than hard. Dense material cases that lack a foam layer tend to overcompensate with heavier protective materials.
A lightweight saxophone case will suit you if you are a beginner or just want to carry your instrument around. It is also great if you travel with it, as they can be easily carried in handbags and backpacks. They come in different sizes so that you can choose one which fits your needs best.
---
Costs and Financing for an Alto Saxophone Case
Affordability and quality can exist simultaneously, though balancing the two can be difficult. 
In the long run, it's better to find a case that will last through the wear and tear of daily use. This might not be the case for an inexpensive option, but it's a better choice than having to replace a damaged case in a year or two. 
Importantly, if the case fails to protect your saxophone, damages can be quite costly. 
Consider Various Options to Purchase Your Alto Sax Case
Take some time to save up, and seek out sellers that offer payment plans if you find that is necessary for your budget. Think back to how you saved up to buy your saxophone: did you seek out grant money, dip into your savings, search for deals on used instruments, set up a payment plan over some months? 
Any combination of these is a possibility for financing your case as well.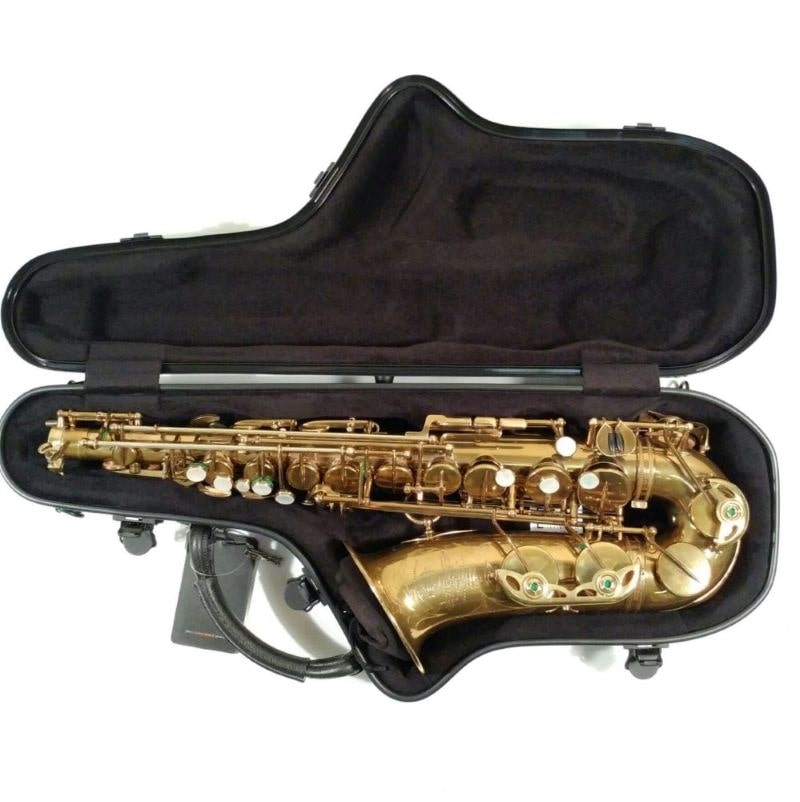 Opting for a Used Alto Saxophone Case
A second-hand case is the best option, much of the time, though you must be careful in determining its condition. 
A thorough listing will show pictures of worn or damaged spots, and will also describe other details of shortcomings, along with how long they've had the case. Some things can be mended—tears in fabric, minor scratching, stains—but other damages are less fixable—missing clasps, mildewed foam, broken handles.
If the given details and pictures aren't descriptive enough, ask questions, or set up a video call or meeting place to see it more closely. 
 Our Tip 
– Look out for school-aged sellers: students may have used the case for a short time before giving up the instrument, offering a great deal for a gently used item.
---
Tips on Finding the Best Alto Saxophone Case Brands
Be sure to read customer reviews and look through their pictures to weed out undesirable products.
Consult with fellow musicians in your life, especially instructors or other experienced individuals. 
Typically, your instrument's maker will also make quality cases. However, sometimes manufacturers specialize in cases and don't make other products.  
Look for brands that offer satisfaction guarantees, or those that have professional recommendations behind their name. 
Browse online music forums for suggestions and comparisons of different brands; Reddit or more specialized sites like Cafe Saxophone or Sax on the web are great resources. 
Look specifically in groups that reflect your instrument, approximate age, and experience level – if you're just starting out, you may not need something that fits the standards of a professional concert musician, for instance.
Check out reputable sources for brand recommendations from musically knowledgeable professionals. While articles may have been influenced by advertisement money, an established website will be less likely to include random, low-quality selections given the higher cost of ads on big-name music journals versus minor sites. 
---
Best Alto Saxophone Case Brands to Look For
BAM
BAM is one of the most expensive, but often one of the best-protecting cases.  Their Hightech line is possibly the best protection case for those looking to fly with their instrument or want maximum protection.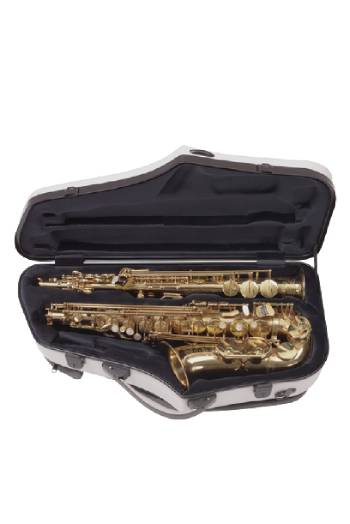 Protec
Protec cases are great cases and usually have a soft exterior. These can be great for the normal trek around town.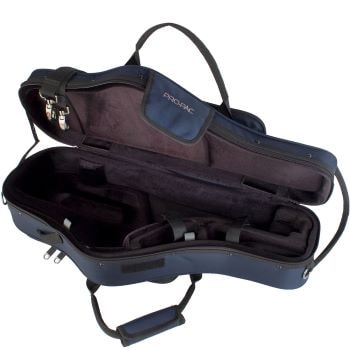 Gator
Gator cases have a variety of hard and soft cases and make a great option.  They have form-fitting as well as box-shaped cases.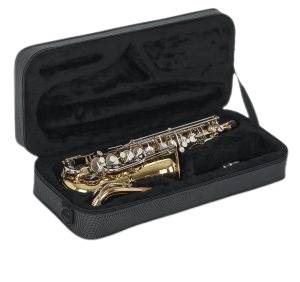 SKB
SKB cases are also one of the most popular.  They are usually hardshell form-fitting cases that protect the instrument well.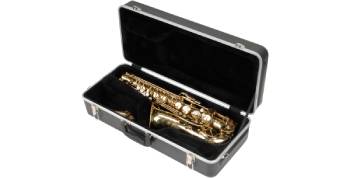 Jakob Winter
J Winter cases are another popular option that claims to have flight-ready cases.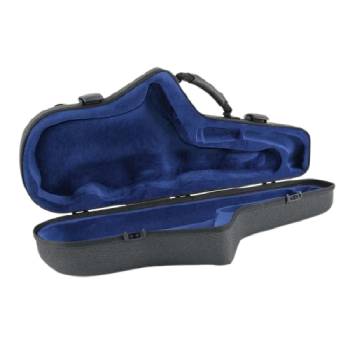 ---
Where to Find the Best Deals on Alto Saxophone Cases
Often, the price listed on a company's site may be more expensive than you're willing to pay. Third-party retailers may offer more competitive prices, along with payment plans or a willingness to match the prices on other sites.
This will also allow you to compare different recommended brands, introducing you to cost-efficient alternatives you may not have previously considered.  If you are shopping online some of the most famous retailers are Woodwind and Brasswind, and Prowinds, among others.
For second-hand deals, check out platforms like Reverb, eBay, Facebook Marketplaces, and Craigslist.

Local sellers may cut out shipping costs and will allow you to see the case in person before you purchase it. This is especially useful for checking whether the clasps close tightly, your instrument and accessories like reeds or sax mouthpieces fit snugly, and the materials protect well. 
---
Takeaway on Finding The Best Alto Sax Case or Gig Bag for You
As we've detailed in the article, your options are many in terms of affordability, features, and design. 
Use all your resources at hand: recommendations from professionals, discourse on online forums, customer reviews, descriptions on used case listings, in-person viewing, and consultation with experts at music stores. 
Be wary of praise from untrustworthy sources and grey literature; trust instead people and businesses that have firsthand experience with those brands. Consider your budget and all your financing options, being sure to remember the long-term benefits of a quality case. Give yourself a week or two to compile all the information you need: draw out several pro and con lists, a big spreadsheet, a set of detailed notes.
Taking all of your research into account will allow you to find the right alto saxophone case to fit all your needs.