Marching bands are often an integral part of sporting events as well as parades. They are used in high school and college athletic events, in some specific marching competitions, as well as in some other types of festivals and community gatherings.
They are a very important component of all junior, senior high schools, and colleges all around the United States. If you have not had the pleasure of witnessing a live performance, it can be difficult to understand just how much fun marching bands can be (check the following documentary series "Take the Field", to give you an idea)
A good marching band instrument, should last and be resistant to outside environments, sometimes harsh ones.
Many of these instruments are used in the military, where they have served their purpose for years. However, other types of instruments that perform in parades, have only been used in recent times. Whether recent or not, all of these instruments have a very important role in how a marching band sounds.
If you are starting in a marching band, are updating your gear, or doing a transition to another instrument within the band, before you decide to purchase, it is a good idea to do some detailed research on what you will exactly need and are looking for.
This article will help you to make well-informed decisions. Some of the factors that you will want to look for before starting with marching band instruments are:
what are the costs
renting or buying
the size
the case and other accessories needed
the brand
care and maintenance needed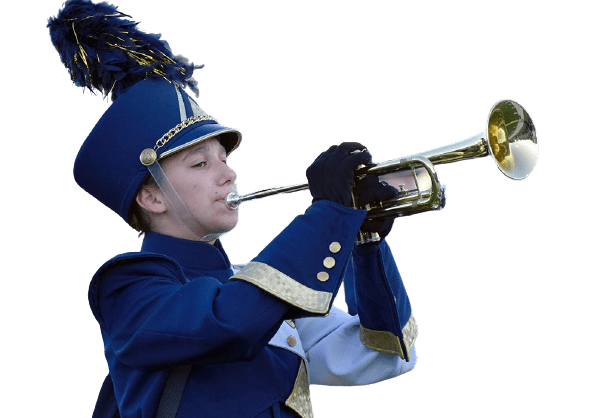 ---
What to Consider Before Buying a Marching Band Instrument
The Costs of a Marching Band Instrument
You should consider that a quality marching band instrument that can last you in the longer term, will have higher costs. In general, higher costs musical instruments tend to have more quality than cheaper ones, and marching band ones don't differ from that.
Even if not buying online, you may want to check the prices around the web, so that you can get a better idea of what price ranges you might pay for your marching band instrument.
You will also want to check for a warranty that covers the instruments. Some of the instruments may also be more affordable than others. There are a few things that you will also want to look for in such a scenario.
If you are a parent, one of the most important factors that will influence your decision is to know if there are any band instruments your son or daughter would like to play and that might be the right one for them.
You should also know that some instruments are not cheap. If you have not done your research, you may be surprised by how much you will pay. This does not mean that you have to spend more than you can afford. A little homework will go a long way.
Marching bands are a lot of fun and require a lot of skill to play. But for enjoying them to the fullest, they require a lot of equipment so that you will be able to provide the best performance possible in the most comfortable manner. If you are able to provide high-quality performance, it will be very rewarding for your child and/or your students, but that should be done with minimal comfort.
---
Renting or Buying a Marching Band Instrument?
If your son or daughter is interested in playing a specific instrument, then you can give them a call and ask them several questions related to the specific instrument and why they are willing to play it. They may not be ready for purchase yet, but if you ask them the right questions it might happen that they show you how interested in playing such an instrument.
After you have some interesting and motivating answers from them about a specific instrument, you can now consider buying it, instead of only looking for a rental or the option of a used instrument (also viable and cheaper).
In any of those scenarios, you will want to check with the school that your son or daughter is part of and ask them if, for example, they have any necessary funding for your child to use this equipment or a rental program in place in case you don't want to buy an instrument right away.
That's quite a normal option in schools. If they do not have it, then there are other schools that might be able to help you out. It is important to ask before purchasing because you will not want to be stuck paying for something that there is the risk of your son or daughter losing interest and don't keep playing it.
You will also want to make sure that you have a good idea of the history of each of these band instruments so that you can find out about the history of its makers. It is not always the best idea to purchase things that were manufactured in the past and that are second-hand, as depending on the quality and conservation of the instrument, you may have an extra problem with it in the future.
---
The Size of the Instrument
The size of the instrument you or your child are willing to play while joining the marching band might have a great impact in terms of the costs involved and the physical demands of playing such an instrument.
Generally, larger size instruments, tend to be more costly in terms of the instrument price itself but also on their care and maintenance. Furthermore, they tend to be more physically demanding and extra equipment that can make it more comfortable while marching and playing should be a must to own.
---
The Case and Other Accessories Needed
Considering the number of times you will transport the instrument and the traveling that some marching bands do all through the year, the investment in a good quality case or bag that can protect well enough your instrument should be a major factor to any student player.
Also, not less important is the investment needed in some equipment and instrument accessories that can make you more comfortable while marching and playing it. Despite that adding to the costs of owning a marching band instrument, it will save your back and other parts of the body that tend to be tired and stressed out after many hours playing on the field or carrying it from one side to the other.
---
What Brand Manufactured it
Marching band instruments can be very costly, so, if available, it is a good idea to purchase some that do have a warranty. You should also know where they were manufactured because this may be a good indicator of quality.
Ideally, make sure that they are made by a known company. It may be easier to find information about that company online and there are many websites that allow people to do a search for this information.
---
Care and Maintenance Needed
Similar to any other band instrument performing in all sorts of bands, a well cared and maintained instrument will sound better and drive your costs down in the long run.
Consider periodically checkups and ask for the advice and tips of the band directors, school teachers, and more experienced fellow players on what you can do on a daily to weekly basis, that can prevent your instrument from breaking or starting to malfunction sooner than expected.
---
Takeaway
The best advice that we can offer is to find out as much as possible before purchasing the instrument, taking into account how long you are willing to play with your marching band instrument and what effort you are going to put into learning it.
You should take into consideration all the factors described above, as those will be presented in most of your decisions while learning and playing your marching band instrument.
In bandtuning.com, we have a full section only dedicated to marching band instruments, with tips and reviews both for parents and students playing in such types of bands. We hope that it helps you with the necessary research and information before or while starting in a marching band.