So you or your child have decided to learn to play the flute! Awesome!
Being one of the most popular instruments to play in a band, specifically on a beginner level, it is important to know what are the best options available for student players.
In this article, I will review some of the most popular brands and models, and give you an overview so you can pick the best flutes for beginners to start. At this stage, it's important to pick one that is suitable for your level, but with enough quality to get you to improve along the way. 
The Best Flute Models and Brands for Students
There are so many great options for beginner flute players. I've broken them down into categories depending on what you might be looking for.
And after that selection, I go into detail on the most popular choices for beginners.
Keep in mind that this article is designed for flutes for BEGINNERS. If you are a more experienced player, these flutes might be more of a hindrance for you, and you will be looking at an advanced instrument in a higher price range. 
Best Quality Student Flute ⭐
The Yamaha 222 flute. A high-quality flute for a student model. It will last the student a very long time, and can also be resold fairly easily.
Best Overall Student Flute ✅
This is a tie between the beginner models from Gemeinhardt, Trevor James, and Di Zhao.
These flutes are not nearly as expensive as the Yamaha but will serve all the purposes that the Yamaha provides and may last just as long.
They also all come with a curved headjoint, which will be useful for the beginner. 
Best Economic Option 💰
The flute model from Jean Paul.
Jean Paul has a reputation for creating amazing quality instruments for an amazing price.
These flutes might not be up to the quality of the previously mentioned flutes, but they can be repaired and last a long time. 
Best Budget Flute 💸
The flute from Mendini.
Amazingly, a flute of this quality can be sold for this low price. 
Best Flute for Small Children 🧒
The plastic flute from Nuvo.
With the weight, curved headjoint, as well as its supposed waterproofing, this will be perfect for the young child trying to learn the flute. 
---
Review of the Most Popular Beginner Flute Models
Now let's take a closer look at some of the models and brands you will encounter when looking for a beginner flute.
Yamaha YFL-222
Yamaha is a mainstay for flutes as well as many other instruments. Yamaha is known for the quality and reliability of its musical instruments.

While being a bit more expensive than some of the cheaper brands, this quality beginner flute might last many years and may serve them until they reach an advanced/professional level.

As well, Yamaha flutes have a significant resale value.
Pros
Excellent quality
Great reliability
Great reselling value
Cons
Incompatible with old versions
Hard to assemble
Bad color combination
---
Gemeinhardt 2SP
Gemeinhardt is a classic manufacturer that is well-known in the flute world.
Gemeinhardt is known solely as a manufacturer of flutes and has models from beginner to professional.
The 2SP is their beginner model.
It also comes with a curved headjoint, which is important for children with small arms. It's considerably cheaper than the Yamaha as well.  
Pros
Great student flute with a significant reputation
Half the price of a Yamaha
Comes with a curved headjoint
Cons
---
Trevor James 10X/10XC2
Trevor James is a relatively new flute company from England that makes models for beginners to professionals.
They are starting to get a reputation and might be worth trying out.
One important detail is that the C2 model comes with a curved headjoint, which could be very important for a child with small arms. 
Pros
High-quality
Curved headjoint
Cons
not as well-known as some of the other brands
a bit more expensive
Hear how the 10XC version sounds here (review by the Flute Channel)
---
Di Zhao 100-200 series
Di Zhao was a professional flutist in China before coming to the United States to pursue instrument making.
He worked for Powell instruments before starting his own company.
These flutes have excellent quality, while generally being cheaper than a Yamaha flute.
The Di Zhao Mini-D model has the option of a curved headjoint, which will be suitable for younger players with short arms.  
Pros
Great quality
Cheaper compared to similar flutes
Cons
Relatively new, without a large reputation
Check this review from Gina Luciani
---
Jean Paul
Jean Paul is fast gaining a reputation for producing notable student instruments at an incredibly low price. 
Their flutes are no exception.  
Pros
Excellent price versus quality 
Cons
---
Jupiter
Jupiter has long been popular for student instruments. 
Their instruments have a good level of quality and will serve the player very well.
However, their price is roughly the same as a Yamaha, while the quality/reputation is arguably slightly less.  
Pros
Reliable instrument for students
Cons
The price may be a bit too high
View brand new ones or excellent used models of Jupiter JFL700 at Reverb
---
Mendini
Mendini flutes have gained a reputation as a serious budget flute option.
They are one of the cheapest flutes on Amazon but have an impressive level of quality. If you are on a budget and not sure if you will continue, this might be an option.
One of the downsides though is that the cost of the repair would probably cost as much as the flute, making this flute not ideal for the long term.
Pros
Amazing quality for a very cheap price
Cons
Repairability might not be cost-effective
---
Glory
The Glory flute is a direct competitor to the Mendini flute.  While they are almost the same in price, the Mendini flute is noticeably better in quality.  If you are looking for a budget flute, the Mendini would probably be a better option. 
Pros
Cons
The flute is lacking in quality compared to others
---
Nuvo Student Flute
Nuvo creates flutes made of plastic, designed for small children. 
They have several models, but the one closest to a standard metal flute is the Student Flute.
It's an interesting approach to a beginner flute. It weighs significantly less than a metal flute and has a curved headjoint option available designed for children with short arms. However, it lacks the resonance and tone of a metal flute. 
The Nuvo is cheap, but it will most likely need to be replaced down the line when the student becomes more advanced. While it's a noteworthy concept, one could buy a cheap beginner metal flute for the same price.
All in all, their plastic flute is an excellent option for a small child wanting to start learning the flute.  
Pros
Lightweight
Curved headjoint option is great for small children
Cons
The plastic build makes it lack resonance
A little bit pricey considering the material
---
Eastar
Eastar is gaining a reputation for putting out cheap instruments of amazing quality.
Their flute is no exception. If you are looking for a decent flute for a cheaper price, look no further. 
However, repairing the flute may cost more than the price. If the player is more serious, this flute would eventually need to be replaced by a different flute. 
Pros
substantial quality/price ratio
Cons
Not the best long-term option due to lack of repairability cost-effectiveness
---
Etude
Etude flutes are sold at stores such as Woodwind and Brasswind.
These flutes have a long reputation as student flutes, with solid build quality.
Also, they sell for a very affordable price. These flutes would eventually need to be replaced for the advanced playing levels but would last the beginner for many years. 
Pros
Great build
Reasonable price
Good reputation
Cons
Eventually will need to be replaced
---
Selmer Prelude
Selmer is a famous manufacturer of woodwind instruments, having a long history of providing high-quality instruments.
This is their beginner model. It's a great choice for beginners but will lack some of the quality of other models.
While Selmer creates some of the highest quality professional instruments, there may be other beginner flutes with better quality for the money.  
Pros
Reliable beginner flute
Solid reputation
Cons
Newer brands may have better quality for the money
---
Pearl
Pearl has a long history of great quality with beginning band instruments. It's one of the common brands for beginners. And for flutes, there are a couple of models marked as "student".
However, I would steer away from the model marked 505. This is because it is an open-hole flute. It is not normal to see this on a beginner flute and will be just one more thing to worry about for a beginner flutist. 
The 200 model is an excellent choice for a beginner.  
Pros
Great quality for a student flute
Excellent reputation
Affordable flute for a student
Cons
For a true beginner, steer away from the student models with open holes
---
Allora
Allora flutes are sold by many famous stores such as Woodwind and Brasswind.
Generally, these instruments do not get good reviews.
Also, they are a little bit more expensive than other similar flutes.  Better to get a higher quality instrument for this price.
Pros
Cons
Disappointing compared to other similar flutes
---
Buying Considerations
When picking out a beginner flute, there are many considerations. 
Flute Cost
A professional flute can cost upwards of $10,000!
But the good news is that a flute for beginners doesn't need all the bells and whistles of a professional model, and the flute price will be significantly less. 
If you are just starting, you don't want to buy a flute that will break the bank.
However, you want to make sure you get a decently made flute.  The last thing you want is a flute that is so poorly made that it discourages you from playing.
Manufacturing 
Flute manufacturing has changed over the years.
The quality of manufacturing in China has significantly improved, throwing a wrench in the previous tiers of flutes and presenting inexpensive flutes that have decent quality. 
The Brand
The brand name is important.
Generally, you want to avoid a brand that is unheard of or has few reviews. The best flute brands are ones that have reviews, and a reputation that is easily found. All the rest would be flute brands to avoid. 
Issues With Cheap Flutes:
Difficult to tell the quality. Make sure you read reviews before purchasing or ask for advice from a more advanced player.
Repairing a cheap flute will cost more than the price of the flute. For this reason, you may want to get a little more expensive better made flute that is worth repairing. 
Buying Used Flutes
Buying a used flute could save you a lot of money if you know what to look for. But if you are a true beginner player, I would advise asking for the help of a more experienced player when doing so.
You could easily buy a flute that is of poor quality.
---
Traits of a Beginner Flute
Beginner flutes have many things that would not be beneficial for a professional flute but would be sought after for a beginner. I'll list them here. 
Open-hole Versus Closed Hole
Professional flutes have open tone holes that must be sealed with the fingers. Beginning flutes have tone holes that are already closed.
For the beginner, closed holes are better.
Open holes are generally just one more thing to worry about when starting the flute, and not something that will make a big difference for the beginner. A starter flute will generally come with closed holes. 
C Foot Versus B foot
Professional flutes have an extra note, going down to a low B.
Beginner flutes go down to a low C. The B foot adds an extra consideration that slightly changes the overall sound and response.
This is not going to be a big concern for the beginner, and to be quite honest, it will be some time before the low notes of the flute will sound properly.
Although some entry level flutes come with a low B, it is not needed and could potentially get in the way. The majority of beginner flutes come with a C foot.  
Curved Headjoint
This is a consideration that may make a big difference for a young child who has short arms.
Curved headjoints make the total length of the flute shorter to accommodate this.
Not all beginner flutes have curved headjoints, but if you are shopping for a small child, this may be an important characteristic to look for. 
---
Basic Playing Techniques
The flute requires an incredible amount of air compared to other instruments.  Here are a couple of tips to get you started.
Do Breathing Exercises
Breathing should come from the diaphragm muscle. Research exercises that will strengthen this. 
Start With the Headjoint
The headjoint will be the easiest place to start. Take it off and try to get a sound with it BEFORE trying the whole flute.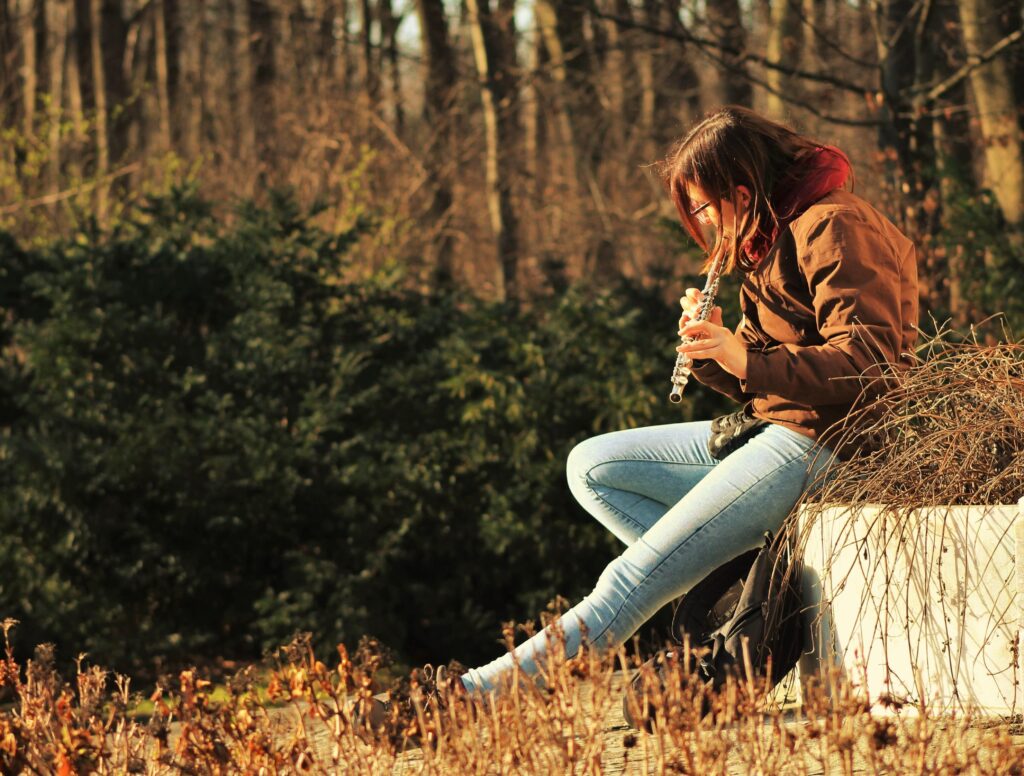 ---
Basic Care of a Flute
Whatever the model or type of flute you choose, it's essential that basic care and maintenance of the instrument is done regularly. There are essential accessories that you will need for keeping it in good condition. 
Cleaning Rod
The flute will come with a cleaning rod or cleaning cloth.
This is designed to swab out the interior of the flute. You can attach a proper cleaning swab to the cleaning rod, or you can attach a small rag if you don't have that.
You want to swab each section of the flute.
The most important would be the body and the headjoint, followed by the foot joint. The primary reason for this is to keep saliva or sugar from corroding either the pads or the metal of the flute. 
Tarnish Cloth
An advanced flute is made of silver. Most beginner/student made flutes are made of a nickel/silver alloy.
Some very cheap flutes are made of cupronickel. Silver tarnishes in contact with the air.
To keep it looking nice and shiny, it's important to use a silver tarnish cloth to keep it looking nice.  
You can pick one up on Amazon.
---
What to Avoid in a Beginner Flute? 🚫
The flutes discussed above are ideal for beginners. The reason behind this is that all of them are easy to play hence the user will be motivated to learn.
But there are some things you should avoid as much as possible when looking for entry-level flutes, even if it's a used flute. 
A poor flute is made of low-quality building materials that can have an impact on the sound it makes and on their the flutist's budget.
Risking buying a flute that makes low-quality sounds and might wear out quickly will just slow the learning process and the enjoyment a beginner needs to keep motivated on playing the instrument.
---
Flute Brands to Avoid ⛔
As happens with other band instruments, you have plenty of brands to choose from, which are consistent and provide good quality models whether for beginners, intermediate players, or more advanced ones.
However, that doesn't mean that every flute brand you see in the market is good. There are some flute brands that you should avoid.
In general and despite that they have been getting better overtimes, it's widely known that flutes of most Chinese brands are cheaper but also of less quality and should be avoided. Sooner or later it might cost you more to repair or break, ending up in losing all the money you invested in the instrument.
It's true that some well-known flute brands, even Americans, that you see in the market have some parts or are produced in China.
But such brands normally get several parts produced in China and keep the quality control high before assembling the full instrument in the US or Europe.
The brands you normally should avoid are Chinese ones that typically have extremely weird English names.
---
Conclusion
There are many great options for flutes for beginners.
There is so much variety in budget and quality, that you will undoubtedly be able to find the option that is right for you. I've got in detail some of the most popular flutes pointed to a student flutist out there.
If you want an instrument that will last a long time, you may want to go for a Yamaha.
If you want to spend less money, you may want to go for a Jean Paul.
If you're shopping for a very young child, go for a Nuvo.  With any of these choices, I think you won't be disappointed.
---
FAQs
What Are the Best Flutes to Buy for a Beginner?
The best beginner flute in terms of quality is the Yamaha 222 flute, followed by the models of Gemeinhardt 2SP, Trevor James 10X/10XC2, and Di Zhao 100-200 series.
The best economic option is from Jean Paul and the best budget flute is from Medini.
If you are looking for a small children's flute, then the Nuvo plastic flute will suit you best.
What Are Some Common Traits of a Student Flute?
Between open-hole and closed hole models, you should opt for closed hole flutes. Between C Foot and B foot models, you will notice that the majority of beginner flutes come with a C foot. When buying a flute for a young child with shorter arms, always opt for flutes with curved headjoints.
What Needs to Be Avoided When Buying a Beginner Flute?
Avoid buying lesser known brands. Even though they are getting better, it's widely known that flutes of most Chinese brands are cheaper but also of less quality and should be avoided. Flutes with low-quality building materials can have an impact on the sound but also on the progress a student player makes.
---
---
More Flute Related Articles