If you are a French Horn beginner player looking for your first gig bag to protect and transport your instrument, then this article should get all your doubts clarified.
French Horn cases come in a range of prices, dimensions, materials, brands, and colors.
But what exactly to look for in a French Horn Case, Gig Bag, or Backpack? Well, putting it simply and most importantly, you should look for the best options for transporting, storing, and protecting your French horn.
It's extremely important to make sure that your instrument is protected while being transported as French Horn are sensitive and are on the higher end of the most expensive band instruments.
Considering that, we've compiled some tips on how to find the right gig bag for you!
You might be looking for answers to the following questions:
What should be considered before buying a french horn gig bag?

The range price of a french horn case?
Which are the suitable dimensions for a french horn case?
Where to buy them?
What brands are the best?

What types of french horn gig bags or backpacks exist?
Finding the best french horn case can be difficult for beginner players. You will find out that the range of prices is wide, and you may not know what to look for in a case or where to buy one from the
From all the factors you should consider for buying a gig bag for your french horn, most importantly, just make sure that your instrument is well protected while being transported. We've compiled some tips on how to find the right case for you!
---
What to Consider When Looking for a French Horn Case?
First of all, you will encounter basically two types of french horn gig bags, depending on what french horn you have or are thinking of buying: cases for fixed bells and others for screw bells (detachable ones).
The great advantage of detachable bells is their convenience for traveling and transporting the french horn as you are able to opt for more consolidated backpacks. For example, they allow you to take the instrument on a plane, as they can fit under the seat or in overhead compartments.
It's also really important that your French Horn Case has adequate room inside of it. When looking at dimensions, keep in mind that these will vary depending on the type of french horn, but they should leave your instrument too confined, neither with spare space that allows it to move from one side to another while transporting it. Also, you might be looking for a case that has space to store your instrument's accessories.
You need to consider how will you transport the instrument for the majority of your practices or performances. There are different types of cases available depending on what type of player you are: some cases are designed with wheels for easy transportation, while others are lighter weight and don't come with wheels or handles. So in the end, you need to figure out if you are willing to go for a lightweight case or a hard case one?
What Materials Are French Horn Cases Made Of?
French horn cases or gig bags can have the following as their primary materials (some more common than others):
Nylon
Foam
Leather
Plastic
ABS
Fiberglass
Wood
---
How Much Does a French Horn Case or Gig Bag Costs?
French Horn Cases vary in price depending on which brand, what type of format, and which player level is looking for the gig bag or backpack. Some can be as low as $100 and others over $500, also depending on if you are looking for brand new ones or used cases.
For a beginner player, the range in prices for a french horn case would be more or less in the same price range, but some could be cheaper if he or she considers for example backpacks, which are more compact and lighter-weight options.
Such prices definitely vary depending on what you're looking for and who and where you buy it from. If you want your french horn protected with foam or fabric lining and don't mind spending more money, then expect to pay closer to the $500 range.
Generally, the more expensive cases will be of higher quality with better craftsmanship; however, not all expensive cases are good quality so it's important to know what you're looking for when buying a case.
---
What Brands Are the Best?
Similar to what happens for french horn brands, there are many different brands of cases and each has its particularities, but you should get a good quality case with the most commonly known brands such as:
Protec
Gator
SKB
Marcus Bonna
FusionGard
J. Winter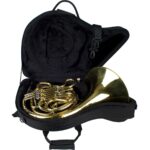 ---
Where to Buy French Horn Cases?
The best place to buy your french horn case these days is online through some music instruments marketplaces like Reverb, Woodwind & Brasswind, or Musician's Friend. Buying from these websites will ensure that you are buying a quality product at the right price as long as you check each product's features, reviews, and conditions (in case it's a used case).

Keep in mind that it's not just about the price but also about what features you want – for example, do you need an easy-to-carry and lightweight gig bag?
More general retailers such as Amazon and eBay could also be a valid option, but you need to be more careful in terms of quality.
If available nearby, also a great place for horn players to find and experiment with a potential gig bag or backpack is at a local music store. There you can check in person the features of the case and you can have the help of a skilled collaborator.
---
Which French Horn Cases Dimensions Should I Consider?
When looking at dimensions, keep in mind that what is normally presented are the outer dimensions of the case, and not how much space is inside. It's is normally recommended that you go for a bigger case so that you have room to store the instrument as well as your accessories.
The sizes of cases vary by brand and if you are looking for detachable or fixed bells. But the exterior length could typically go from 25 to 35 inches and the width from 15 to 20 inches for fixed bells.
Those are general measures for most of the fixed bells horn cases, so ultimately, you will need to check with the manufacturer if the instrument you are looking for does fit in the case.