A question that is often asked by someone looking to start in a band, whether a student in their first music lessons or by parents, is: what is the cheapest instrument in a band?
Similar to the question of what are the most expensive musical instruments, it is a difficult question to answer, especially if you're looking for an instrument that is reliable and of some quality.
However, if we only consider the typical band instruments, the answer would be: the flute, then followed by the clarinet and the trumpet.
This is very dependent on your level as a player, your interests, and the quality you are looking for, even for a cheap instrument.

The truth is that there are many different types of instruments that you can purchase for your music lessons, and some of them cost a whole lot less than others.
---
The Cheapest Instruments Within Each Section of a Band
Despite that, the three musical instruments pointed out above, are considered the most economical in a band overall, each of the three sections of a band presents instruments that vary greatly in terms of price.
So what are the most affordable options within each section of a band?
Cheapest Woodwind Instruments
Typically instruments belonging to the woodwind section of a band tend to be cheaper than the ones from brass or percussion.
This has to do somehow with their smaller sizes and the variety of materials that they are made of.
These instruments are reasonably priced in the most common marketplaces and good quality used models could be priced just for a few hundred dollars. You may need to pay a bit more to acquire first-quality models, but having a lot of offers in the market, for the most part, buying a woodwind shouldn't cost you a lot of money.
The Flute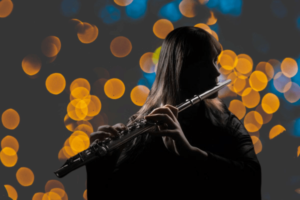 The most economical woodwind instrument is the flute and usually is also pointed as the cheapest you would find in a typical band ensemble.
Similar to other of its family instruments the flute is a great choice because it doesn't take up a lot of space and it's fairly easy to learn to play.
Being one of the most popular types of instruments you usually can find some great bargains, especially in the used flutes market.
The price range of a used beginner flute will be between $80 – $400 and an intermediate one costs you around $200 to $600. Professional used models will be priced already in the 4 figures mark.
That will of course depend mostly on what brand it is, the state of the instrument, and your level.
---
Cheapest Percussion Instruments
The percussion section of a band can be made of a wide range of instruments.
If your child starts at a younger age and is interested in playing an instrument, the percussion section has different types of instruments that are a great choice to start with.
Snare Drums, Cymbals, and Bells

If you're looking for the cheapest band instrument possible within the percussion family, you can opt for either snare drums, cymbals, or bells.
Or you could also opt for a percussion kit, which costs you between $200 and $400 (some including snare drums)
Make sure you do your research, so you don't end up buying some cheap plastic drum that will break after a couple of weeks.
Some schools teach beginner percussionists by accessing instruments through established partnerships with music stores or music schools. These instruments are often cheap and can be bought after, even though some might not offer the best quality. Those types of partnerships, often provide a valuable service by allowing budding musicians to learn the basic techniques of playing an instrument whilst making a modest purchase
Another option, even though not included in a typical percussion section of a band would be maracas or boleros. Maracas can be found for a surprisingly reasonable price. They are also easy to play, although some maracas, especially of the larger size, may need some training before you can fully master them. They require a bit more practice than some of the other options above. Still, their cost is usually well worth it in terms of the volume of sound they produce.
---
Cheapest Brass Instruments
The brass section of a band is normally the group of most expensive instruments when compared to percussion and woodwind instruments.
This is directly related to their varying sizes and shapes which are normally quite elaborate adding a very visual component to a band.
Trumpet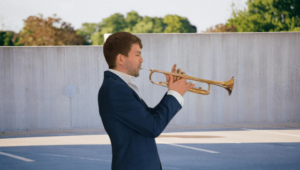 A popular choice that is also generally pointed to as the cheapest instrument in the brass section of a band is the trumpet.
It's possible to find good deals on trumpets due to the large offering whether you buy them in musical shops or through marketplaces and websites that sell used trumpets. Normally, you will find better deals online, even though there are more risks involved.
A bit more expensive, but apart from the trumpet, another cheap option within the brass section of a band is the trombone. Also a very popular school band instrument and quite an easy one to start with.
---
Best Options for Buying a Cheap Band Instrument
When it comes to buying an inexpensive instrument, you should think about what you're going to be playing as well as what your budget is.
Choosing the cheapest band instrument you can find can be difficult. Many people will go with the least expensive brands because they are cheaper, and it just seems easier to buy the less expensive items. But, what may seem like the cheapest way to get what you want, may not be the best choice in the longer term.
There are different things to consider for avoiding or minimizing the risk of getting a cheap but low-quality instrument, but your best and most affordable option will be to search for used band instruments.
Used Band Instruments
Nowadays there are plenty of places to buy used instruments, especially online.
We identify them in the following article, exposing the advantages and disadvantages of each marketplace and what you should take into consideration before buying an instrument there.

Another valid option for pre-owned instruments is to check with your local music store. If you are unsure of what to look for in a band instrument, perhaps that's your best call. The staff there will be able to help you and advise on what model will better suit your needs.
Buying an instrument that has been well taken care of often will dramatically decrease the amount of money you will spend on repairs, except for collection items with a historic value or certain models which are highly reputable and not manufactured anymore.
If you are just starting at the band and aren't sure how committed will you be in the future with that instrument, then a pre-owned item will be a great solution.
Among the used instruments option, you can find from time to time some student-used models in your school that come cheaper than when buying online or in a musical store.
Most schools allow only students to use these types of instruments, so you will have a much easier time finding them than you would if you were shopping at a retail store. The price range is usually quite a bit lower than any of the other options we present here.
---
Plastic Band Instruments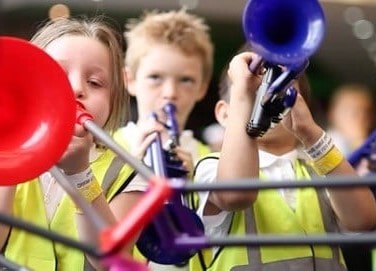 Currently, for almost every type of band instrument that performs in a typical school band, there is a plastic version. And that's becoming a valid solution, especially for beginner players.
Especially, when it comes to the brass or woodwind section of a band, plastic musical instruments could be a decent option to start with, at a very considerable price.
They are getting better in terms of quality and diversity. However, consider that you won't have a top-notch instrument in terms of sound, despite that you will still be impressed with how good it sounds.
Learning Through Music Schools Instruments
One of the options for a beginner who is just starting to learn to play is to go to a local community college or school and play with the school's instruments when available.
The main advantage of going to a school is that they will usually offer a choice of classes that are taught by professionals who have been trained in the particular instrument that you wish to play.
This means that the quality of teaching will be higher and you will benefit from having a teacher who has more time to spend with you and therefore more opportunities to correct your mistakes.
Especially if your child is just starting in school and is not yet ready for more advanced training that's a solid option. Some of these schools offer discounts when you bring your children to use their facilities. Other places provide cheaper lessons by purchasing discounted instruments.
---
Conclusion and FAQs
Among all band instruments, certain types are cheaper than others. And that's also true within each band section. We cover all of the cheaper ones here in the article.
However, take into consideration that the range price for each type of instrument is quite wide, depending on your level, the brand, and the quality you are looking for.
With so many musical instruments available in today's market, the ones pointed out above can have reasonable listings whether online or in musical stores, especially considering used instruments.
But please note the first thing you should figure out before asking the question of which band instrument is the cheapest, should be how serious are you about playing in a band. Is it for a longer term? If so, you should consider the quality and perhaps buy a new instrument or a used one well preserved.
If you think playing the band for a shorter term, or you are not certain if you are willing to continue after, then there you should also consider other alternatives like renting.
---
What Band Section Has the Cheapest Instruments?
Among the three different band sections (woodwind, brass, and percussion), the cheapest one as a whole could be considered to be the woodwind section.