Used trumpets are a great option for beginner and intermediate players and are a more cost-effective solution while still offering quality when compared to buying new ones. Whether in an initial phase of learning or already looking for a step-up instrument, a pre-owned trumpet might be your best ally to continue developing as a trumpeter.
But you need to evaluate several aspects and ask different questions before deciding to buy a used trumpet, namely:
What characteristics to look for in a pre-owned trumpet?

What is your budget? How much will it cost to buy a used trumpet?

Where will you buy your instrument? Online or in music stores?
Also, what brands and trumpet models should you search for?
What are the advantages and disadvantages of a second-hand trumpet vs. a new one?
There are many options available whether in musical stores or online, from very cheap used instruments to more expensive and good quality models.
It is very important to know what you're getting before you purchase the instrument and make sure it will suit your needs. In this article, we provide tips on how to find a used trumpet, what should you expect to pay, where to buy them from, and what features should be looked at when making such a decision. 
From our own experience in buying, selling, and consulting with musical stores and musical experts, we've gathered answers to all the questions above, giving you an idea of what's in the market and what to consider for buying a used trumpet.
Used Trumpet Cost
One of the main advantages of purchasing a pre-owned trumpet is the price you will pay when comparing it to a new one. But what should you expect to pay for an instrument in good condition?
This can serve as your used trumpet price guide, to give you a general idea of what influences its cost and what values are currently in the market.
But first, what determines its cost?
Factors Influencing the Cost
Condition
Its actual state will determine greatly the value it will sell for.
Instruments in good condition that are ready to be played with minimal to almost no maintenance or repair requirements will sell for way more than a somehow slightly damaged instrument, needing repairings and extra maintenance.
Material
What's the applied lacquer? Is it original? The applied finish, including plating, will always affect pricing when compared to an instrument in similar conditions.
Most student trumpets have a shiny, gold lacquer finish. Intermediate and professional trumpets are normally silver-plated (check our infographic on the different types of lacquer and how they affect timbre)
Brand/Manufacturer
The brand and the manufacturer will also affect the price.
Just like you can't assume a trumpet with a certain brand to sound and function properly, the same applies to the quality of the trumpets made by that manufacturer. Some manufacturers, in order to offer lower prices for student models, unfortunately, use low quality materials.
However, don't assume that because it's made by Yamaha, Getzen, or Bach that it's good. Some of those brands and models are definitely more qualified and more reliable manufacturers, always check the instrument's actual condition. Sometimes, the brand only matters in terms of advertising and name recognition; not much else, at least in terms of sound and reliability.
Features
Some features like a larger bore, stainless-steel pistons, one-piece hand-hammered bells, and other modifications made to the instrument, might increase its pricing.
Accessories
The original accessories that came with it or accessories that the seller provides in the offering will also affect the price when compared to an instrument with no accessories.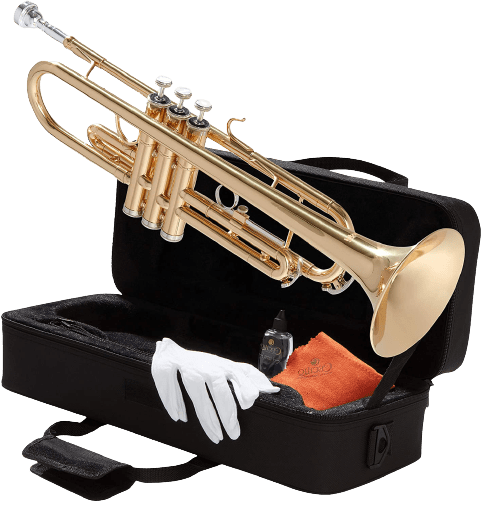 ---
Used Trumpet Prices
Considering some of the models we've identified already as being the best options for beginners and intermediate trumpet players, and reviewing the marketplaces we've identified here, you can expect to pay between the following ranges for used trumpets in good condition. 
Note that these ranges are influenced by how we think the condition of a used instrument should be, as we are only filtering decent to excellent condition trumpets.
The Price Ranges for Used Trumpets of the Best Models for Beginners and Intermediate Players
---
Where to Buy Pre-Owned Trumpets
Local Music Stores
Usually, it will come in handy and you will be able to test and play the instrument before purchasing. They can also have a better selection of models but not always at better prices.
You also need to consider that sometimes, you might have to wait a bit longer for your purchase. It will depend on the music store's inventory and time of the year.
Online
Nowadays, opting to buy used instruments online has become so common that even an experienced musician will find himself searching for his instrument online just to save some money. 
There are several dealers from which to choose but one should try to avoid buying from resellers or sellers that don't offer adequate guarantees or warranty coverage.
Whenever possible opt for online specialized instruments marketplaces, like reverb.com. We've identified previously the main marketplaces you should check online for band instruments as well as what to factor in and be cautious to have when purchasing through them.
Alternatively, another online resource specific for trumpets is the Trumpet Herald. They have a specific marketplace, where horns are sold by other trumpeters and are usually in good condition. 
---
Tips When Buying Used Trumpets for Sale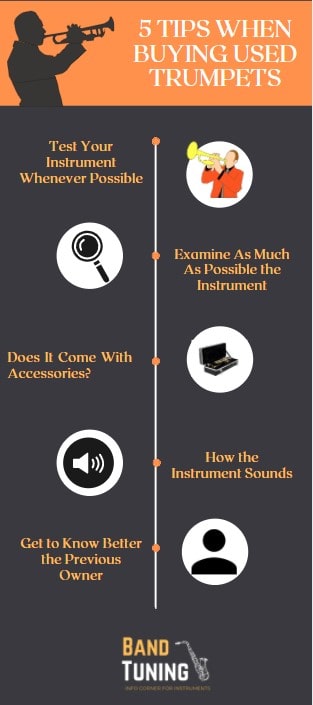 Test Your Instrument Whenever Possible
First and foremost, whenever possible, always test and play it before buying.
This does apply whether you are buying from a music store or at a private sale. Even when buying online, when agreed with the seller you can test it or ask for more photos and videos proving the instrument's current state.
If you are a beginner player, sometimes, that can be the only way to know how it plays and if it's in good condition. However, there are factors that can determine whether the instrument you are looking for is worth it or not.
Examine As Much As Possible the Instrument
There are some types of small damages or problems that are normal to happen on a used trumpet and can be fixed, like small dents, valve alignment, and soldering work.
Any major large dents, rust, or cracks should be detected and prevent you from buying the musical instrument.
You should be able to evaluate how large and problematic are those damages, as sometimes it would be cheaper to buy a new trumpet considering the cost you might have for repairing or maintaining it. 
Look Closely for Dents, Scratches, and Rust
Especially in the following three areas: slides, mouthpiece, and valves. Small dents or dings are normal in a used item, especially in a student one, but they should now be too big as it might greatly affect how it will play. 
Analyze Its Slides and Valves
Do the slides move correctly back and forth? And do the valves move freely? It can happen that some valve is stuck considering that it might not have been well maintained or not played recently.
Does It Come With Accessories?
Always ask if the trumpet comes with must-have trumpet accessories, like a case, mouthpiece, cleaning materials, and spare valves if needed.
Occasionally the person you are buying from isn't pretending to continue playing such a musical instrument, and even trumpet stands can be included in the negotiation. This of course, when any of such trumpet accessories might suit you or you don't have them yet.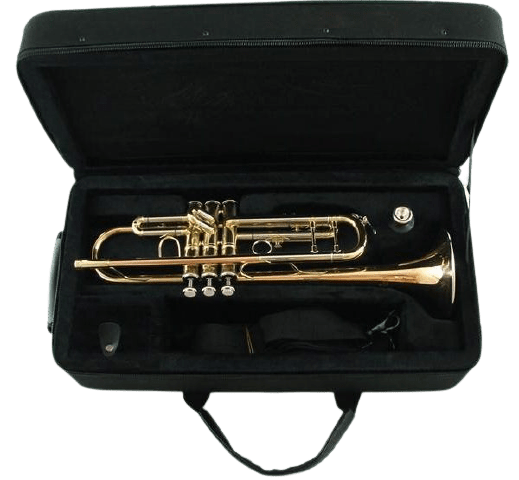 How the Instrument Sounds
The Composition of Brass Instruments and Its Sound: Copper, Zinc, Silver, and Nickel
The trumpet is one of the brass instruments, which are called like that because of the most commonly used material, brass itself.
Such material is easy to work with and resistant to rust, and also beautiful to look at. It will also greatly influence the sound the instrument produces, mostly dependent on the ratio between copper and zinc.
To produce a white, shiny alloy of nickel and silver, nickel can be blended into copper and zinc. Nickel-silver provides better resistance to rusting than brass and produces a deeper and more resonant sound.
Timbre Depends on the Material Quality and Coating
The way in which the air inside it vibrates determines the timbre of a wind instrument. Different materials will produce different timbres. The shape of the instrument, the length of its tube, and the quality of the material are all factors that affect how it will sound.
When selecting a used trumpet, there is very little you can do to know the out-of-the-box timbre of an instrument without having experienced it first. A trumpet built some decades ago with a brass bell, brass body and nickel-silver keys will have a different sound than another trumpet built-in 2000 with an aluminum bell, aluminum body, and silver-plated keys.
Not only the material and its quality, but also the lacquer coating or plating might affect the timbre. The main goal of such protection for wind instruments is to prevent dirt and rust but is something to consider when examining how it sounds. Normally, different types of lacquering will result in different types of sounds.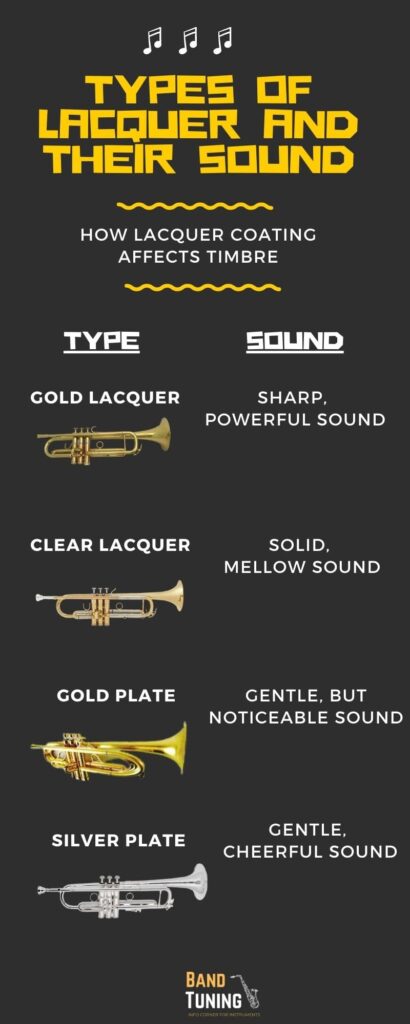 Get to Know Better the Previous Owner
We recommend that you not buy a trumpet based not only on how it looks and plays, but also based on what the previous owner has done with it.
Ask him or her some questions that might help you understand how the instrument was used and taken care of.
For example, when did they start playing the trumpet? Or how often did they play it and on which events or occasions? What did they do to maintain it? 
Check the seller's feedback and reviews. 
Especially when buying online, you should have a look to see if the past buyers were satisfied with their purchase from that seller.
In case you can't find reviews, you should do a search for reviews of the instrument in question on different platforms or forums. They will help you to get a better idea of what kind of trumpet it is and how it plays.

---
What Are the Pros and Cons of Buying a Used Trumpet?
You might wonder what are the benefits or disadvantages of buying a used trumpet when compared to a new one. We've identified what are the main pros and cons of opting for a used instrument to help you make a more informed decision.
Main Advantages
The Price
The biggest advantage of buying a previously owned trumpet is the price you will pay when comparing it to a new one. Used instruments tend to always be significantly cheaper unless you are talking about an older trumpet with collectible value.
Depending on their condition and model, you can find used trumpets for a third of the cost of new ones, making them also a very competitive choice when compared to rental trumpet options.
Buying Discontinued Models
You may find a particular trumpet that has been discontinued by a manufacturer but that still is a great choice whether for beginners, intermediates, or professional trumpeters.
That's normal to happen every now and then, when a particular brand or manufacturer discontinues a specific model, mainly to focus on new versions.
Also, if you are into the collectability of a certain model with a particular history, the pre-owned market offers such models.
Variety of Models to Choose From
Being one of the most popular band instruments out there, another benefit is the variety of instruments you can choose from in the market. You can get different types, models, and brands. When you are well informed and you are able to verify the condition of the instrument, you can find great deals whether online or in music shops. 
---
Main Disadvantages
Instrument's Condition
One of the main cons of buying a pre-owned trumpet is that you can't always be 100% sure of what you're buying, even when you test it and do all the due diligence on its condition. This makes used trumpets less attractive to some players.
However, by following our tips on what to look for when buying a used trumpet, you can minimize that risk. 
Value
Related to not being sure of the quality and condition of the instrument, it can happen that it won't "hold" the value you bought it from in the first place. Also, the second-hand market is flooded with trumpets every year, so yours might be only one more.
Durability and need for More Repairs and Maintenance
Even though it can also happen to a new instrument, older trumpets might need more repairs and maintenance, and might not be durable in the longer term. This is true, especially when you get a used trumpet that has been played all the way through by previous owners, or has been stored improperly.
Sometimes the valves and slides need to be readjusted, and there can even be some dents to be removed.
You should evaluate whether it will need extra care and repairs before buying it.
Some Risk of Being Scammed
Depending on where you are buying it and how cautious you are, there can always be the risk of being scammed. See our tips to minimize such risk, by getting to know more about the seller and making sure that it is a reputable dealer.
In most cases, buyer protection laws exist. Make sure you know all the details before buying and if there is a case of fraud, don't hesitate to inform the authorities and file a complaint with them.