If you just bought a trombone for yourself or your child, whether it is a student trombone or a more advanced instrument, you may be wondering about the best way to keep it safe and in perfect condition for continued use.
The best way to keep your instrument safe is to purchase a case or gig bag to store it in.
Some trombone purchases will come with a case, but if not, the job of finding one falls to you.
A case will keep the instrument safe during travel and storage. Buying a case is not a decision that should be taken lightly. There are multiple things to consider to ensure you are purchasing the correct case for all your needs and wants.
This article will walk you through the types of cases out there, as well as what you should consider before buying one.
---
Why Purchase a Trombone Case or Gig Bag?
Cases are important for keeping your trombone safe and in peak condition while traveling.
It is most important for keeping the slide system safe. They will keep the slide straight at all times. The slide can shift when it is being transported while not in a case, and this can make the trombone harder to play properly.
It also ensures that the instrument will be in a safe and secure spot when it is being stored and not in use. Damage may occur to your trombone from the elements when not stored.
Dust particles can gather on the instrument's surface, leading to scratches and dirty orifices. Other objects can bump into your instrument and create dents and scratches. Water can damage the trombone, especially when there is prolonged exposure.
A case or gig bag can prevent the liquid from touching the instrument and creating rust.
Having a case handy also ensures that you have storage for essential materials needed for performing. Some of these items that you can keep in the case for your instrument include cleaning supplies, slide oil, and sheet music for gigs or practices.
---
Types of Trombone Cases 
When finding the right transportation for your trombone, there are different types of cases to consider.
Trombone Gig Bags
First, there are gig bags. These are often used by professional musicians to transport their trombones to nearby venues for gigs.
Along with a handle to carry the case by hand, there is also a strap to wear the bag as a backpack. These gig bags also have more space in them for storage, such as pockets to store items and accessories for your trombone. Even if you're not yet a professional musician, you may find gig bags to be a useful method of transporting your instrument to and from more local places.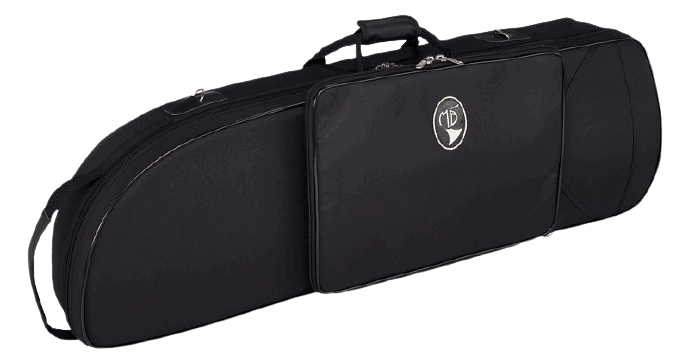 Soft or Hard Cases?
There are also soft cases. These are also best if you do not have to transport often or very far.
Although they are the cheapest type of case, you may be better off considering purchasing a hard case. They are the most expensive, but they are also a worthwhile investment if you are going to travel frequently or if you are traveling across a long distance.
Hard cases are the most durable type of case and can withstand quite a bit of impact and abuse, in addition to having plenty of storage for accessories.
Both soft and hard cases normally include only a handle for carrying it, unlike the gig bag which can also be worn as a backpack.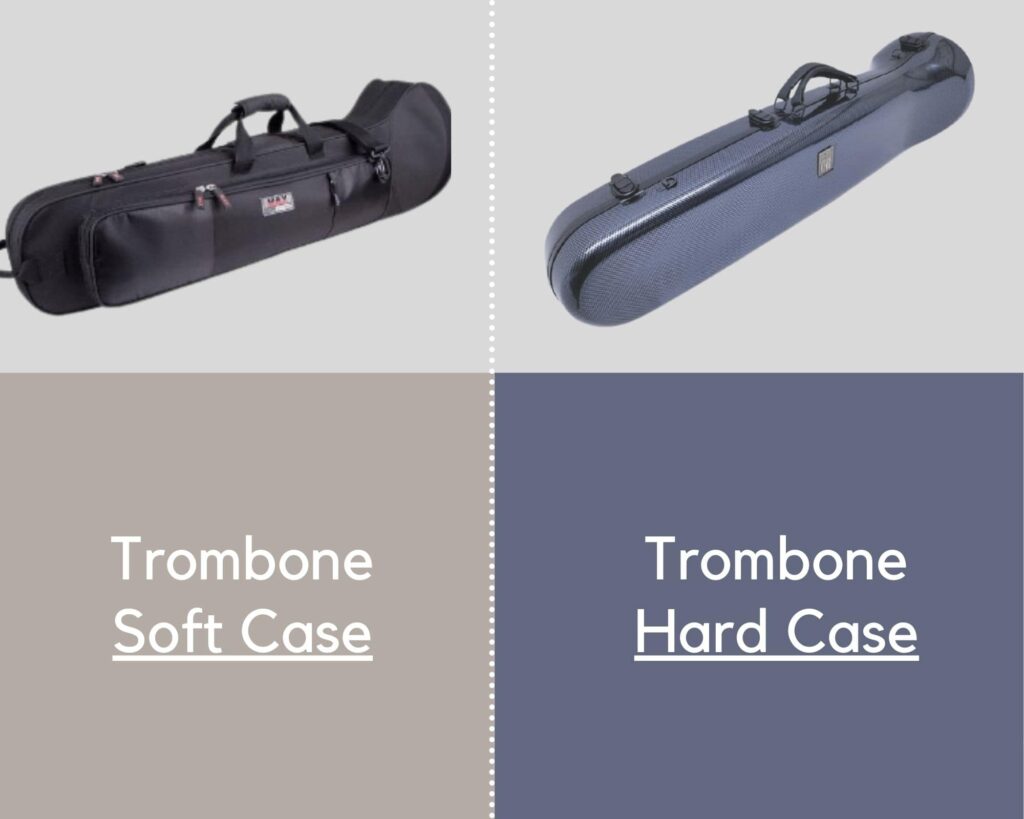 ---
Features to Look For on Cases for Your Instrument
The specific features of the different types of trombone cases are also something that should be considered before purchasing one.
The material on the outside is one such feature. The type of case you need to purchase will be dependent on how often and how far you travel. If you travel more frequently or across long distances, you should consider a heavy-duty, solid case.
The material of the frame is another feature to consider. The best frames are lightweight so that the entire contraption does not weigh the case down and make it harder to carry. It should also be shock resistant and lined with foam or another padding in case exterior objects bump into it. This will protect the instrument from any external damages.
Consider what the padding inside the case is made of; a plush or foam inside is important to protect the instrument should the case fall or be bumped into regularly.
If you are purchasing a case in person, it may be possible to check the latches of the case before you buy it. Ensure that they are reliable and snap together properly – and that they stay. You do not want these latches to undo accidentally in transit and allow your instrument to fall out, as this can cause serious damage.
Finally, think about what you want to carry with you while you travel with your instrument. If you should need extra storage space in the case of music or cleaning supplies, for example, keep this in mind when purchasing your case.
---
What To Consider When Buying a Trombone Gig Bag or Case 
There are multiple factors to consider when choosing a case that will appropriately protect your trombone.
The slide system needs to stay correctly aligned during transport, so a case that will sturdily hold your instrument is a must. If your trombone does not fit snugly, the slide system may move and possibly become damaged or cease to function properly.
Another thing to consider is whether or not you need a case that has wheels. A wheeled trombone case also referred to as a wheelie case, may be worth considering for younger students or those who must travel on foot often and struggle to safely and comfortably carry the instrument while it is in a case.
Buying a case online can be a worthwhile option, as many online retailers have a diverse selection of products and options for delivery, customization, and specification.
Buying a trombone itself can often be a costly expense, and repairs will make it even costlier, meaning that it is all the more important to find proper protection for your trombone. 
---
Price of a Trombone Case
Trombone case prices can vary greatly.
From the dubious, but ultra-cheap, sub $100 range, to the custom but costly cases worth potentially thousands – there are many different price options.
The aforementioned ultra-cheap cases can sometimes simply be used cases, so it is important to consider the quality of these options (i.e. how long has it been used and how often). Those are considerations similar to finding a good deal when buying a used trombone.
Considering these factors could potentially find you a relatively decent case for an otherwise considerably low price.
On the other hand, opting for an expensive case will almost always offer you consistent protection, and oftentimes undeniable style. However, these expensive cases are often too costly for a fair amount of student trombonists.
Regardless of the price of a case, it is still important to clearly understand what kind of protection the instrument will need.
Oftentimes, a trombone is sold in a package that contains a gig bag, and many trombonists will find that the included case fits their needs well enough. 
---
Best Trombone Case for Beginners
In no particular order, these four cases are found to be the best for keeping trombones safe. 
Protec PL239 Tenor Trombone Bag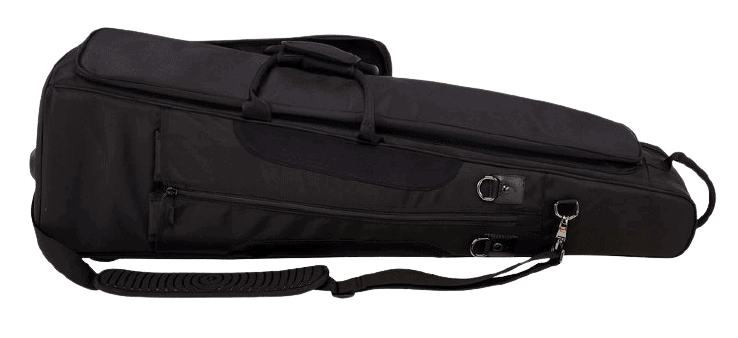 Price: This is a gig bag that is priced at $149.99 from the brand Pro-Tec.
Info:
The inside is padded with foam, which will
reduce any shock damage
that may happen if your case happens to be struck. The nylon exterior of the case will protect your instrument from any weather or leakage that falls onto the case.
This gig bag also includes an ID tag to make yours identifiable from others, as well as large pockets to hold sheet music without them needing to be folded. As with other gig bags, there is a strap to hold the bag on your back. However, with this bag, the strap can be removed.
Gator Cases GC-Trombone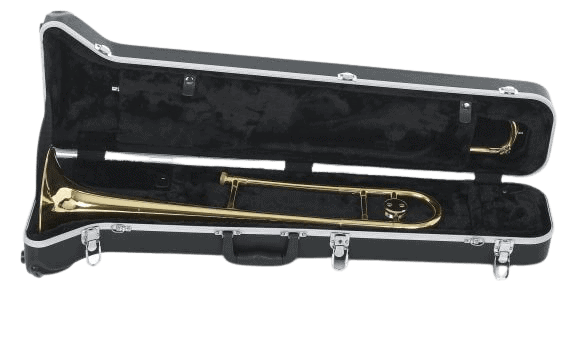 Price: It is priced at $130.79 and is produced by the brand Gator
Info:
Lightweight molded trombone case with locking latch and plush-lined Interior.
This hard case will fit the standard models of trombones given to students who are just learning how to play. The case is reinforced with aluminum to keep the instrument inside safe without making it too heavy to carry. A shoulder strap can be added.
Crossrock CRA860TBBL Trombone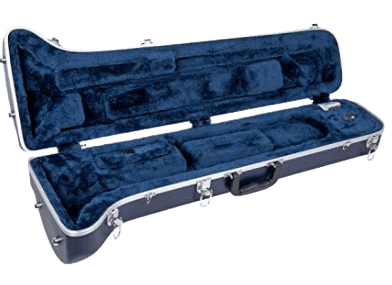 Price: It is made by Crossrock and is priced at $127.
Info:
Contoured ABS Molded Hard Shell Case with Padded Strap in Blue.
Though heavier, this case is considered one of the best on the market for durability. This case has an interior made of high-density foam that is wrapped with a blue, plush lining. The outside is made of a heavy-duty metal valence. This case comes with two accessory compartments as well.
Fusion PB-15-B Premium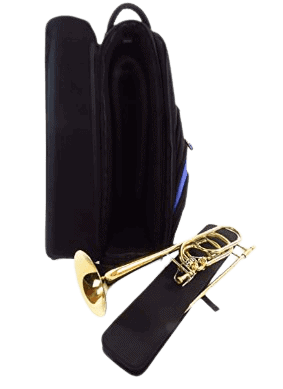 Price: Priced at $389.99 is this gig bag from the brand Fusion.
Info:
Tenor Trombone 9.5-Inch Bell Gig Bag, in black and blue color.
This bag is water-resistant and the material prevents rips from happening. The inside is made of velvet to prevent the trombone inside from being scratched as well as a foam to resist shock. Accessories can be bought from Fusion and be attached to the gig bag as it comes with a 'Fuse-On' system for these accessories to be added. 
---
Final Takeaway for Protecting Your Trombone 
In conclusion, there are several different aspects of cases that can affect how much protection your instrument receives.
Although some may be more expensive than others, it is important to invest in a high-quality case, as it will save you money on repairs in the long run. These features should be considered based on personal usage of your trombone to make sure the case you get will fit your needs.
Among the three different styles of cases – soft, hard, and gig bags – hard cases are generally the most durable of the three.
---
FAQs Section
What Types of Trombone Cases Exist?
There are soft and hard trombone cases, trombone gig bags, and backpacks.
How Much Are Trombone Cases or Gig Bags?
They range from around $100 to potentially thousands of dollars, depending on the protections and quality you are looking for. We give as a suggestion four good quality options especially for beginners, between $130 to $390.