Trombones are very popular among beginners, particularly beginning band students but also in intermediate/youth orchestras.
Today I'd like to present my unique perspective on the best student trombones and why they are best suited for beginners.
The brands' list is by no means exhaustive, but I hope to provide a detailed overview as well as an explanation of their benefits and deficits.
First, I'll explain how I came to these conclusions, then I'll offer some conceptual categories of best beginner trombones: 
Finally, I'll present make and model recommendations based on specific, individual needs of beginning trombone students.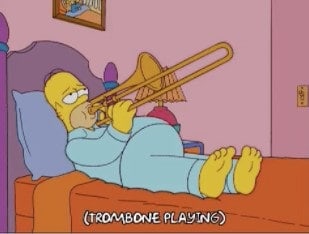 ---
How Do You Know?
First, I should mention that playing and selecting a student model trombone is a bit of an art, rather than a science. All human beings experience art a little bit differently, so the ideal trombone for beginners is often a matter of opinion rather than fact.
But experience, including mistakes, helps us learn more. So the more a trombonist plays, the more they learn!  After playing trombone for over twenty years, I hope my experience will help YOU, the beginner, to make the OPTIMAL decision.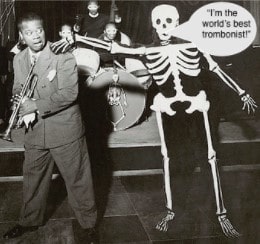 ---
A FEW CATEGORIES OF THE BEST STUDENT TROMBONE
Do you have an older brother or sister who recently got their first car? Maybe your parents bought a new or used car recently.
Finding the best student trombone is a bit like buying a car because you're investing in quite a few things, like:
What – the quality of materials
Where – the place of making and
How – the maker's experience and skill level
Why – the use of your car or instrument
When – the amount of time it took to make and the year it was made.
These factors can have a BIG influence on what the best beginner trombone brands ought to be, so I sorted them into a few categories to help you understand each of their benefits as well as deficits.
| CATEGORIES | BEST STUDENT TROMBONE BRANDS |
| --- | --- |
| Mainstays | Conn, Bach, King, Yamaha |
| Thrifties | Allora, Mendini, Cool Wind, Etude |
| Imports | John Packer, Wessex, Schiller |
| Vintages | Benge, Reynolds, Martin, Cuesnon |
A selection of the best student trombone brands for each category
Mainstays
We start with the category of THE BEST STUDENT TROMBONE! These are what I call the Mainstays, or classics if you will. These, the GMs and Fords, are American (and Japanese!) models of the best beginner trombone brands. 
These include:
These student model trombone brands are part of companies that built trombones for over 100 years, often merging with other companies as they beat out other competition. You may see them as Vintages, but they are called Mainstays because their factories still make brand new trombones for beginners – every single day.
With Mainstays, you get the What, Where, How, Why, and When, all-in-one. Instruments with trusted alloys, made in a transparent way, by skilled craftspersons, marketed to beginners, and run by companies trusted by millions for decades.
The primary disadvantage to buying this kind of student model trombone is the long-term investment involved.  With a brand's reputation, comes cost! Also, like any valuable instrument, they still require routine repairs by skilled professionals.
---
Thrifties
These are your Kias or Hyundais. They are almost always made in Asia (except Japan) and often provide the greatest value in the short term.
Trombone brands like:
In no particular order, these student model trombone brands offer an inexpensive brass alloy or even plastic construction for those value-conscious shoppers. However, the materials used will rot and corrode faster than granny's copper pipes! More on this later…
---
Imports
These are student instruments, generally with the same materials and location of manufacture as Thrifties, but with more attention to their design. It is also common that they are designed by the same companies which produce professional trombones. You could say they are the Honda or Toyota of a trombone for beginners. 
Brands like:
Another nice benefit of purchasing a student model trombone from these brands is that they often will test the quality of the instrument before offering it up for sale AND some even offer warranties on a trombone for beginners.
As with any relatively inexpensive purchase from products manufactured abroad, you should do some research online. Some cheap prices equate to cheaper products.
---
Vintages
"They just don't make'm like they used to!"
One of the finest beginner trombone brands comes from the "used trombones" category.  Why?
In Post-WWII America, often labeled the 2nd industrial revolution,  quality materials were less scarce, labor was cheaper, and innovation grew in leaps and bounds!
Like an aged wine — or, to continue the car comparison, an old Mustang or Camaro — these are trombones for beginners that were made in the golden age of American/European manufacturing.
What follows are some of the best student trombones in the Vintages category:
Benge
Reynolds
Martin
Cuesnon
There are deficits in choosing one of these as the ideal beginner trombone, however. Often, they are found on resale sites like eBay and other places in which the current quality is unknown or difficult to verify. For this reason, it is better to purchase a vintage student model trombone in person and at a resale store.
Also, unlike the previous examples, these trombones for beginners are no longer produced in the factories of the 50s and 60s. So, while the quality of materials and labor is often superior, finding parts and technicians to fix them may prove difficult.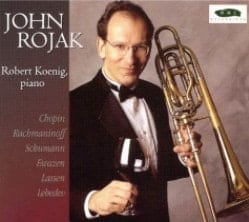 ---
BEST BEGINNER TROMBONE MODELS BY TYPE
| BEGINNER LEVEL TROMBONES BY TYPE | BEST MODELS |
| --- | --- |
| "Child-Sized" or for Short Arms | Yamaha 350C, Courtois 250B, Extendabone solution |
| "Lightweight" Models | Yamaha YSL-350, pBone, Butler, DeCarbo |
| For Sturdiness | Bach TB301, King 606, Prelude 711 |
| Available on Top Retailers | Mendini by Cecilio, Allora, Etude 100 |
| Store Brand Imprints | Jinbao Instruments |
| For Resale Value | Q33 by Shires, Getzen 351/451, BAC Apprentice |
Best Student Trombone Models by Type
Best Beginner Level Trombones for Short Arms
I'm going out on a limb with this one — but because the slide trombone is an instrument we play with our arms instead of fingers, some children or adolescents may be at a disadvantage as beginning students because their arms can't reach sixth or seventh position.  
This wouldn't be such a big deal if most F- attachment, or trigger trombones weren't more appropriate for intermediate and advanced players.
The problem is, using the F trigger to change every note on a trombone may be thought of as adding a second line onto an algebra problem.
That is, a beginner should master the seven rudimentary positions of the trombone before expecting them to learn an additional and different set of seven notes accomplished by pressing down the F trigger.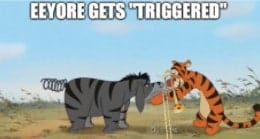 ---
Student Model Trombone Problems, Solved
Band directors rejoiced when manufacturers introduced an ingenious solution: 25% smaller trombones deemed "child sized" to make the instrument more accessible to young people – and their arms – of all shapes and sizes.
Yamaha 350C
The C standing for "Compact," the YSL-350C trombone was introduced to the band instrument market in 2001. As Yamaha describes it, it's "full-sized," but "much shorter in length."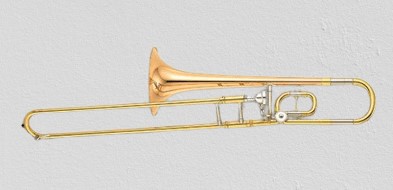 A marvelous invention of the 21st century, the 350C has undoubtedly expanded both the popularity of the instrument and the diversity of its players.
Just push the innovative C trigger and you can play the sixth position of the trombone in first position!
Courtois 250B
Courtois is a very well-respected instrument manufacturer with origins in Paris, France. Like the Airbus to our Boeing, their Creation, Legend, and New Yorker series trombones have reached new heights of competitiveness between American, German, and Japanese trombone manufacturers.
The Courtois label is hailed among advanced trombone students and professionals, most notably the trombonists of The Metropolitan Opera Orchestra as well as The Florida Orchestra.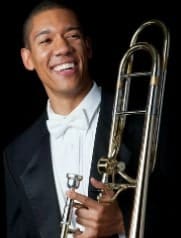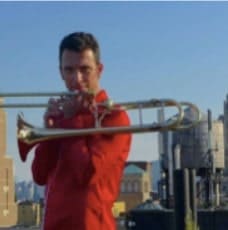 Their student model 250B is considered "child-sized" and, like the Yamaha 350C, is compact to make the instrument more accessible to persons with stubbier arms.
Nicole Abissi's Extendabone
New York City freelancer, Nicole Abissi, invented a novel solution to this oft-encountered struggle for beginning-aged trombonists.
The extendabone is an affordable alternative for stubby-armed beginners who don't have the luxury of a Yamaha 350C or Courtois 250B.
The invention is a plastic-based artifice that tucks neatly in between the trombone slide.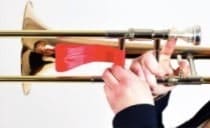 Once the student needs to reach the sixth and seventh positions, just grab the far end with your right hand to extend the trombone slide as you need!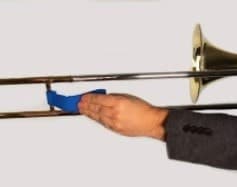 ---
Best "Lightweight" Trombones for Beginners – Brass, Plastic, and Carbon Fiber
Some beginners have Stretch Armstrong slide arms and can reach past the seventh position to pull the outer slide right off! 
Indeed, the next most common problem or learning curve for beginning trombonists is the tension induced from holding the bell section with their other arm.
Stretch Armstrong was always meant to play the trombone, but some trombones are STILL TOO HEAVY!
Often the weight of a trombone is too heavy for the left shoulder to support, especially if a beginner is a child or adolescent.
Yamaha YSL-354
One solution, the YSL-354 manufactured by Yamaha, is a student-level trombone with a counterweight that detaches from the instrument. 
This makes the instrument much lighter for a beginner to hold!
A lighter trombone means less shoulder tension from holding, and, invariably, a better sound!
pBone by Jiggs Wigham
An even lighter option exists, albeit the material it is made of is often frowned upon. The pBone, by Jiggs Wigham, is a student level trombone made completely from plastic instead of brass!
Is it a toy or is it a music-making instrument? Depends on who you ask, but make sure to have your music teacher's permission before bringing one to class.
Besides what your band teacher thinks, and despite its ultra-low price point and low weight, the pBone is generally disregarded by serious musicians and music students because of the inferior sound produced from plastic instruments.
Butler/DeCarbo 
The future of lightweight trombones for beginners may likely be from Butler Trombones (🇺🇸) and DeCarbo Instruments (🇨🇭). 
These trombones are made from carbon fiber, a material also seen on ultra-lightweight bicycle designs.  They are probably the lightest of any trombone, but with an impressive sound!
Unfortunately, they aren't mass produced in a way that makes them affordable for beginning trombonists. Yet!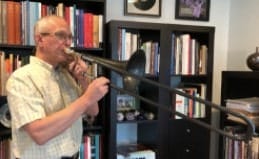 ---
Student Trombones Choices for Sturdiness
Remember what I said earlier about Mainstays? 
These are the most up to date models of name-brand trombones for beginners. They're the most sturdy because their makers have been practicing and perfecting design and craft making for a very long time!
Bach 301
The foremost and well-respected beginning band instrument brand in the US.
Made in the USA
Seamless bell (one piece)
Durable alloy, materials, design
King 606
The King 606 is a longstanding staple of the beginning trombone world. 
This was my choice as a beginner, and I still use the King brand when playing jazz bass trombone.
Top choice for beginners interested in jazz trombone
Also Made in the USA
Durable alloy, materials and design
Prelude (by Conn-Selmer) 711 
The lightest option of beginner trombones with a counterweight.
Made in China for those value-conscious
Lesser quality materials, but from a long-trusted brand

---
Student Level Trombones Found in Big Box Stores
Remember when I compared Chinese alloys to granny's copper pipes? 
Well, now is when I mention that some "big box" retailers, such as Amazon or Walmart, always hope to increase their margins or bottom line.  
Unfortunately, the decline of shopping malls generally – in tandem with the decline of in-person shopping during a global pandemic, specifically – has given rise to online shopping as the primary means of purchasing goods, including student level trombones.
Often, online retailers will take advantage of unfamiliar consumers by producing what is called ISO's, or Instrument Shaped Objects.
The following are beginning trombone brands, most commonly found on big box store websites, that look more expensive than they sound. 
That is, if the price LOOKS too good – and low – to be true, it PROBABLY IS!
Mendini by Cecilio
These, on Amazon and Walmart, price around $250. Think of brass as you think of the price of gold. The rarer the metal, the more expensive the trombone made of that metal!
Since you couldn't try out the instrument yourself on Amazon, would you risk spending $250 on something your repair technician won't have parts for and for which they aren't accustomed to repairing?
Or, would you spend a few hundred extra dollars, over time, to buy something made in America that your repair technicians are accustomed to repairing, with parts made widely available for purchase on music-store specialty websites?
Allora
This instrument is sold on another mail-order website catered to marching band instruments. At a $374 price point, it is still about half what you'd pay for a Chinese manufactured horn designed by a centuries old Instrument company like Conn-Selmer. 
So despite it being sold on a music website, the same value of design probably isn't there!
Etude 100
In addition to being found on Amazon or Woodwind and Brasswind, this ISO can be found for purchase on an equally popular mail-order franchise, Musician's Friend/Guitar Center.
As I've made clear in this section, Instrument Shaped Objects are successful primarily among mail order and online retailers.  For this reason, It is to your benefit to shop for any musical instrument in person.
By doing so, any layperson will notice a distinct difference in sound between Instrument Shaped Objects and actual instruments.
---
Store Brand Imprints – Jinbao Manufactured Beginner Trombones
Among Chinese brass instrument manufacturers, Jinbao Instruments is the most popular.
Often their instruments are rebranded using the reputations and brands of longstanding retailers, like Dillon Music and O'Malley Music in the USA, or Thomann Music in Germany.
These brands differ from the Imports category in that their quality is more routinely inspected, most likely by the store's owners, managers, repair technicians, and/or quality control teams. So while their materials are cheaper in quality, their design and overall sturdiness may be closer to average.
If you want an above average instrument, 
Don't buy Chinese instruments with cheap alloys (avoid certain trombone brands), or –
If you do, buy it from a reputable music store's imprint.
Even better, buy it from an instrument design studio such as an Import category type.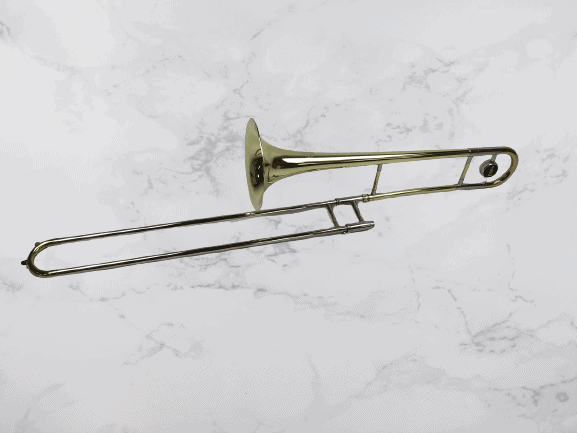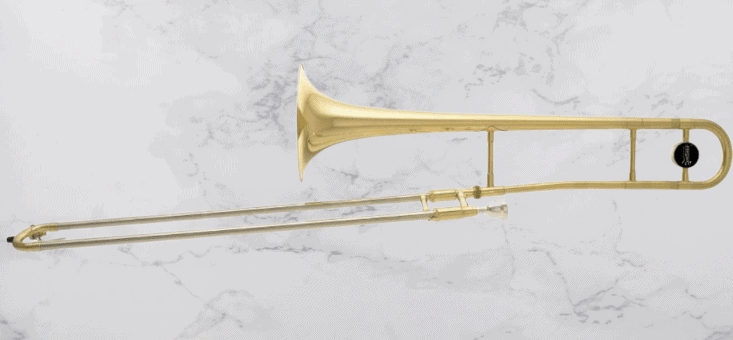 ---
Excellent Beginner Trombones for Resale Value
The last category is student level instruments which rank higher in resale value specifically because of being made of quality alloy, by experienced craftspeople, in the US of America.
Our guide to buying used trombones gives you different advice when opting for such options.

Q33 by Shires
The Q33 by Shires is an apt, student level trombone made of the highest quality by instrument manufacturer Eastman.  
Although being one of the most expensive student trombones at around two thousand dollars, the Shires brand is currently the most sought-after on the market. 
Which can be interpreted to mean that its resale value will continue to hold.
Shires, renowned for their versatility as well as continuity of production and quality of tone, would be most suited for a beginner as part of a youth orchestra or wind ensemble program.
Getzen 351/451
The longstanding Edwards Instruments Company sells student trombones under their Getzen imprint, which often includes red brass flare and accents as standard. The Getzen 351 and the Getzen 451 are such examples. 

This makes them excellent choices for marching trombones, as a redder alloy enables a higher frequency, or "brightness," of sound most commonly heard in marching bands, rock groups, and popular Latin dance styles.
BAC Apprentice
The BAC instrument company, a relatively new boutique instrument shop, began their Apprentice line to meet a unique demand among school districts in post-Katrina New Orleans.  Still manufactured abroad (see sections about Jinbao and Imports), these horns pass the test of one of the newest and most respected brass brands of US ilk.
Based in Kansas City, BAC Instruments sport a Canadian Brass and Elliot Mason (JALCO) line of trombones. 
Whether you decide to resell your Apprentice model or upgrade to one of BAC's professional models, you'll be in good, as well as a relatively elite, company!
---
CONCLUSION
I hope you have enjoyed reading my article!
Whichever beginning trombone you pick, make sure you have fun playing on it. 
Think about it, the word for making music on an instrument is called play. Like playing with toys or playing in a skit, having fun is essential to any creative pursuit.
So enjoy playing your student trombone. Whether a novice, amateur, or professional, trombonists of any ilk never stop learning.
Practice enough, and your first concert will be sooner than later. As we say in show business, I'll see you on the ice!
---
RAPID FIRE FAQs
What to Consider When Buying a Beginner Trombone?
Essentially, what material it was constructed with and where.
Which Type of Trombone is Best for Beginners?
For short arms, smaller trombones deemed "child-sized" like the Yamaha 350C, the Courtois 250B, or Nicole Abissi's Extendabone solution are the best options.
However, it will depend on the physical needs of the student. Are their arms short or long? Are they prone to tension — tightly wound or loosy goosy? Are they interested in Marching Band, Orchestra, or Jazz?
What Are Beginner Trombones Made Of?
The best materials are Brass or Plastic + Lacquer
How Much Does a Student Trombone Cost?
They vary a lot. For example, the price range in this article is about $200 – $2000, depending on the different factors such as the quality of materials, where it was made, from the what manufacturer, how often and for what you will be using it.
Is Trombone Easier than Trumpet?
If you have braces or plan on getting braces, YES!
What are the Best Trombone Brands for Beginners?
Brands like Conn, Bach, King, and Yamaha present the best student model trombones. These models are made by companies that built trombones for over 100 years, with reliable and high-quality trombones for beginners and more advanced players.
What is the Best Trombone for Under 1000$?
How Do You Test New Trombones?
Ask about their reputation, then record yourself or play them for a friend. If they sound good, they must BE good!
---
Author: Andy Sharkey
Low brass artist who is sought after on tenor and bass trombone, tuba and euphonium 
He always loves a new challenge and has been hired to play less performed instruments, like bass trumpet and didgeridoo
He earned his Master of Music from NYU, in addition to studies at Mannes School of Music, as well as ancillary training in singing and voice for actors from the Stella Adler Studio.
When not performing, he's practicing, arranging, writing; hoarding instruments, accessories and vinyl LPs