If you or someone you know are looking to start trombone you might be struggling with what to pick. Whether you are a beginner or an advanced player, it is important to take the time to research a good-quality trombone.
Being one of the most popular brass instruments, thankfully you will have plenty of options to choose from. In our full guide to obtaining your first student trombone, we detail more about which types and characteristics a beginner trombone should have as well as what are the best models you can start with.
However, with so many trombone brands on the market, it can be difficult to figure out which are high-quality and which are not. Also, there are lots of misleading prices and information.
You are probably wondering what trombone brands to avoid and why there are some really cheap models when comparing different brands.
What Trombone Brands Should Be Avoided by a Beginner?
Avoid instruments like Eastar and Muslady and instruments from China by an unknown manufacturer. Chinese models, for now, aren't there yet in terms of quality, and in some cases, it will be difficult (or impossible) to be repaired.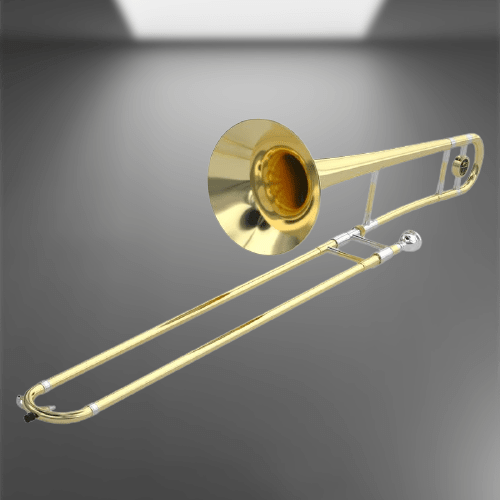 Knowing which brands to avoid is important, to keep away from the pitfalls of companies telling you their instrument is most similar to a Jupiter student instrument or something like that.
---
What Should You Avoid When Buying Online
Generally, websites like Amazon or eBay, tend to lead you into these more dangerous pitfalls. Not that you can't find good deals there, but it is important to check each offer carefully. Whenever possible, opt for more specialized instrument marketplaces, like Reverb.

We've conducted a full article related to selling used instruments online, where we review each of the most famous marketplaces online for band instruments. And another buying guide specifically targeting used trombones will help you on what to consider before purchasing.
It is recommended if doing your shopping online to use a website like Woodwind & Brasswind where you can call in and speak to a musician that understands what different levels of instruments look like, or a local music store with someone that plays your instrument.
These types of businesses can also be a great resource for offering things like lessons and slide products for maintaining and caring for your instrument.
Don't be afraid to reach out to a local player you trust or a band director to give you some recommendations and opinions about certain brands and models. These tend to be the keys to early success on your instrument.
---
What to Look for in a Trombone Brand or Model
With trombones, you generally should stay away from anything that has any kind of colored lacquer.
A trombone should not be blue, purple, pink, or any other neon style color. These are normally indicators of a cheap trombone not designed to project with sound quality in mind.
A trombone should be made with yellow brass, gold brass, rose brass, or sterling or nickel silver.
Another option you might have if you are just starting might be a plastic trombone, however not all professionals and professors agree yet on their quality of sound and tend to not recommend it to beginners. In some cases, you might struggle to create some sounds. We've covered in an info guide plastic instruments, including plastic trombones.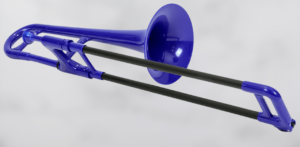 Apart from what you should look to avoid in a trombone model, you will need to give attention to the following characteristics to choose the right instrument for you:
The first thing you will need to know to pick the right instrument is how to pick the correct bore size. Bore size refers to the size of the inner diameter of the instrument.
Trombones come in three size categories. Small-bore which is best suited for beginners and Jazz players, medium bore which is a specialty trombone or intermediate level instrument, and large bore which is generally best suited for classical settings at an intermediate to professional level.
If you are just beginning you will most likely be building your air support and should start with a small bore. Small-bore features several student instrument options that are more durable for beginner players and are built to be easier for initial players.
On top of bore size, you will also want to be sure you are looking for a tenor trombone rather than alto or soprano. Not every trombone plays the way it is written for most beginners.
In general, choose anything that feels good and works when you are playing it!
---
Which Trombone Brands Are the Best for Beginners?
We've covered which brands you should avoid and what characteristics you should look for in a trombone. What about the best brands for students and beginners?
When you are looking at student-level instruments it is important to pick a brand that is durable and will help your student make their early sounds easier to make.
Jupiter and King are two excellent student-level instrument brands that will help the player create their first sounds on the instrument more easily, and offer an easier transition to any professional level trombone later in their playing career.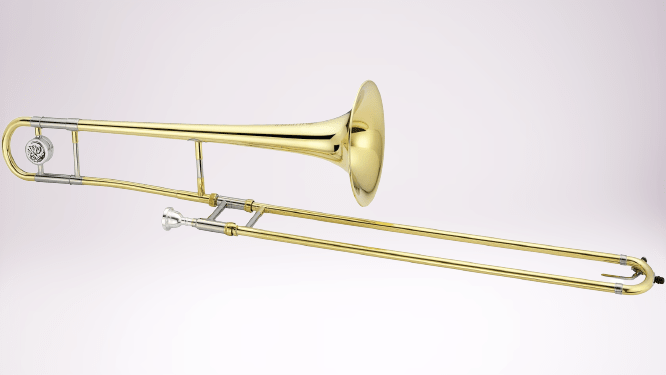 Bach, Yamaha, and Eastman are a few other names that have built their reputation with their level of consistency in their student instruments.
You will also find some models of Conn, Shires, Edwards, B.A.C. horns, and Schmelzer be suggested and a good fit for initial level players.