Opting to buy a used trombone can be usually a great way to save money, whether you are a student or beginner player, or even an intermediate or pro-level trombonist. 
Cost-savings can be more than expected, whenever you consider the following factors:
the trombone actual condition
what to look for in a pre-owned trombone
what are the best used trombones to buy
at what costs
and where you can find them 
Buying a used trombone might be cost-effective while keeping your quality standards for instruments.
However, you should be well informed on how to get the best deals and what are the advantages and disadvantages versus buying a new one.
Think that opting for this route allows you to access very good and reliable trombones from the best brands at a portion of what you would pay for a brand-new model.
Keep reading to find what considerations you should make when it comes to purchasing one of the most used instruments in the brass family.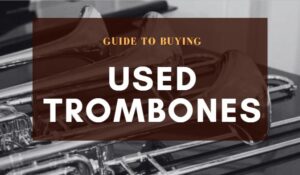 Used Trombone Cost
The overall cost of used trombones is dependent on several factors.
How much a used trombone is worth will depend mainly on the current status they are in, the type of trombone, the material, and the instrument's brand. 
Its Actual Condition
When it comes to buying a used trombone, your first concern should be how it looks and how decently it sounds. 
The instrument must be in a playable state, from not too worn-out from heavy use to the point where it would not still play. 
In this case and whenever possible, you can perform a test session to check the sound and make sure that everything is in order.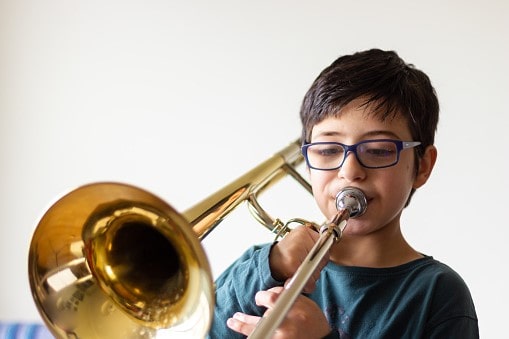 You can also use a tuner to make sure that it plays in tune and is in perfect condition. 
If you know how to ensure this condition before purchasing, then simply do so and don't waste money on something that isn't going to sound good or not playable. 
The Type of Trombone
Different types of trombones are valued differently.
From alto trombones to tenor trombones, trigger trombones, trombones with F Attachment, and other valve trombones, you will notice that prices can vary greatly. And that's true not only for previously owned brass instruments but also for new ones. 
The second-hand market prices the different types of trombones in the following ranges (assuming that they are in minimal good conditions and are from reputable brands):
You can generally find used alto trombones at around $1,000 – $3,000 considering they are in good to excellent conditions.
Regarding tenor trombones, you can expect to pay around $300-$1,300. 
Expect to spend between $1,000 – $3,000 for used trigger trombones, including F Attachment trombones.
The Material
The applied material and lacquer finished on the trombone are also important characteristics when deciding to buy it and does also influence considerably its cost.
On one extreme you have pricey gold brass models and on the other end more affordable prices with plastic trombones, which are way cheaper and are commonly suited for children or beginner players.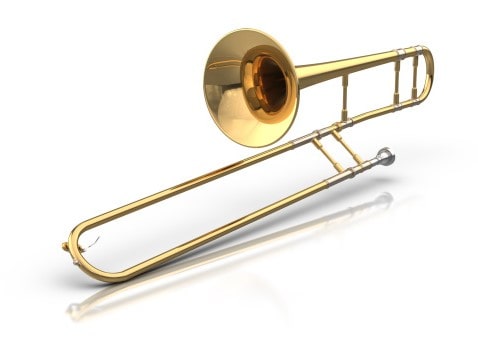 Nickel-silver ones are also cheap, while the ones made of brass and gold brass (also known as yellow brass) will be the most expensive and highly valued.
The Instrument's Brand or Manufacturer
What's the trombone's brand? This single factor can drive the price of the used instrument greatly, as different brands are valued differently. 
In some cases, you could see variations of hundreds of dollars considering only the brand for a certain trombone type, even for pre-owned instruments. 
Best Used Trombone Brands to Search For
There are some types of brands that offer higher quality and more reliable trombones when it comes to previously owned instruments.
Andy Sharkey, our trombone expert, pointed out the best trombone brands and models for beginners.
Those are great choices for beginners and can also be found in the second-hand market with reasonable prices, such as:
Used Yamaha Trombones
Used Conn Trombones
Used King Trombones
Used Bach Trombones
On the other extreme, some trombone brands are better to be avoided, whether for brand-new or a used trombone. Avoid the kinds of trombones and the brands we've identified in this article.
Used Trombone Prices
To give you a sense of the prices you should expect to pay for a used trombone, whether online or in music stores, we revisited some of the models we've found to be among the best options for beginners and intermediate trombonists.

The Price Ranges for the Best Used Student Models
How Old Is It? 
Its age is also an important consideration when it comes to its price. Older instruments might mean cheaper prices due to the use they already have.
However, that's not always the case, especially when you are looking for reputable brands and models that have been discontinued meanwhile but are still well searched by trombonists. Furthermore, if the instrument has some history behind it or was played by an iconic player, its collector value will greatly influence the price.
Does It Come With Accessories? 
Sometimes sellers might sell the instrument together with other accessories or kits for new owners. These could include trombone cases, mouthpieces, tuners, cleaning accessories, or some small pieces of brass that are used to change the length of the instrument itself since different sizes might be used by different players. 
All of those accessories might influence how much you need to pay for a second-hand trombone.
---
Where Can I Get A Trombone
There are mainly two types of sources you can look for and buy trombones: online or in local music stores. Both have their pros and cons.
Online:
You can find a larger variety of trombones and sellers online, which means that there is also a greater mixture of prices. You will be able to purchase a used trombone from a reputable brand, but at the same time, you might be able to find a cheap instrument. 
Access to global markets and the different ways people sell their instruments online have made it possible for anyone to reach millions of customers around the world. So if you are looking for used trombones online, there are plenty of options out there for you. 
The only problem that might occur when buying second-hand instruments online is that sometimes it's difficult to prove their current status and how well they play. To overcome that and minimize such risk, you should consider buying used trombones online from reputable places which we already mentioned above.
We've covered all the go-to sources if you are looking to sell or buy instruments online, whether on specific music instruments websites like Reverb, or in more standard e-commerce websites like eBay, Facebook Marketplaces, Craigslist, or Amazon. 

Apart from those general online marketplaces, you can also consider other specialized musical instruments and trombones websites like:
Whenever buying online always try to verify and validate the current condition of the instrument by requesting the seller for extra photos, videos and also ask important questions related to the previous usage of the instrument and how well maintained it was. Buying from well-known dealers or manufacturers will minimize the risks of buying online.
Local Music Stores:
If you are looking to buy musical instruments near you then your best option is to look for musical local shops. Normally, such musical stores can offer a wide range of instruments from different brands and models that will most likely suit your needs when it comes to buying a used trombone.
The advantage of going to a local music store is that you can check out the instrument before you buy it, so you'll have a better sense of whether it's the right one for you or not.
---
Who Buys Used Trombones? 
There are different types of people that buy used trombones. And there are also various reasons why they do so. These may include: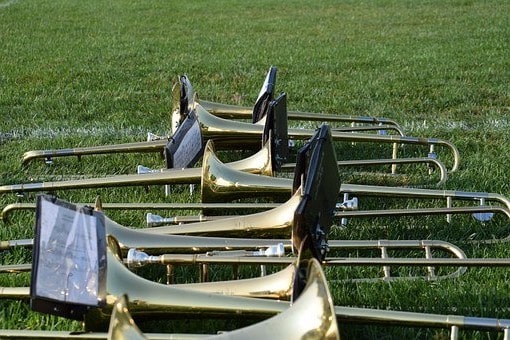 Students or beginner players who are starting to play the instrument, but can't afford to buy a new one. 
Students who have been given an instrument from their school, but not the best model, and wish to replace it with something better once they get to higher grades. 
Beginner players who aren't sure 100% on how committed they are to play the trombone for more than some months or a year, and conclude that renting will happen to cost more
Intermediate to advanced players who rent a trombone during the beginning, and then buy a new model when they need something better.
Professional musicians who use rental models while touring and playing with different bands, and only buy used models when they get to their next gig.
Schools, bands, music professors, or music schools that buy used models to have them available for students and beginners
Trombonists who are looking to upgrade to a new type of trombone, or want a specific model that suits their needs
Musicians that happen to like a particular model and want to have a backup instrument for their performances
Intermediate or professional trombonists looking for a discontinued model of a certain brand or manufacturer
Collectors that buy and sell old or vintage trombones with a certain historic value or played by a famous trombonist.
---
The Main Advantage and the Disadvantage of Buying Pre-owned Trombones
Buying a used trombone is often the best option for people who are not able to afford another price.
A second-hand instrument can give you the same experience as playing with a new one, at a much cheaper price. Additionally, even if you are looking for an expensive model, it's still possible to find one at a lower cost.
The only downside that most people say when it comes to buying or renting a used musical instrument is that there's no guarantee of its quality and sound compared with new instruments. Plus they might feel like there's always something lacking in their performance because of getting started with an old and less pricey model.