If you are beginning to play the bassoon, or already have the instrument but are looking to store it as safely as possible, we've gathered useful information for you.
A case, also called a gig bag, is one of the most important accessories for bassoon players. But with so many options in the market, it is important to know about the types of cases and bags that are needed to hold your bassoon.
Cases are essential for protecting your instrument and transporting it.
This article will provide helpful information about cases that are designed to store and transport all popular bassoons, their prices, and what you should look for when buying one.
---
Before Looking for Bassoon Cases & Bags, Know the Structure of a Bassoon
To be knowledgeable about buying a case, it is important to know the different parts of the bassoon.
A bassoon is typically made up of five parts, including:
the bell joint,
the bass joint,
the tenor joint,
the double joint,
and the bocal.
The four joints fit together to compose the tube part of the instrument, and the bocal is the thin metal mouthpiece.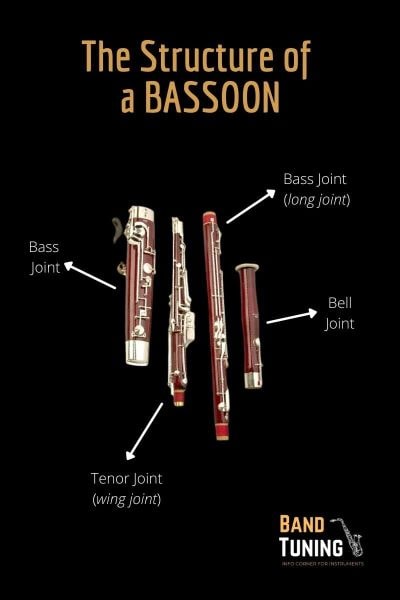 ---
Characteristics of a Bassoon Case
Since the bassoon is made mostly out of wood and is composed of many parts, the instrument tends to be fragile.
It is important to ensure that each part of your instrument is secured when you are transporting it.
Any case you purchase should have four spaces that are shaped to hold the four joints, and there should be a thin slot designated for the bocal.
Each part of the instrument must fit snugly into the case, as any jostling around can result in cracks that will ruin the bassoon's sound.  
Cases typically come with a handle that you can hold like a briefcase. There are also bassoon backpack cases that have a shoulder strap you can wrap around (in some models, it comes as an optional backpack strap, others as a built-in backpack strap or with padded backpack straps).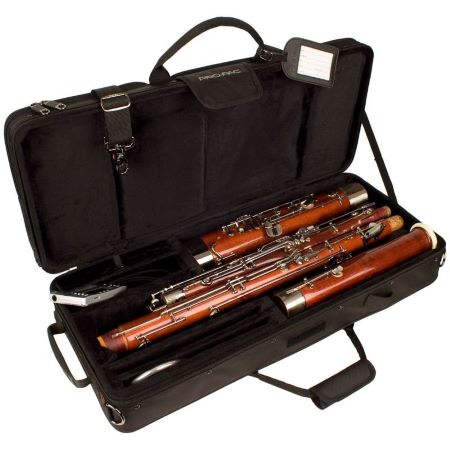 Soft Bassoon Cases
Soft cases are typically made out of leather or fabric. They come in two shapes, a rectangular box shape, and a trapezoidal shape.
Softer cases are slightly more convenient because they are lighter and easier to carry.
However, softer cases are not guaranteed to full protecting your bassoon from damage. If you happen to drop your bassoon on the ground, the case will do little to absorb the shock, and your bassoon will likely be damaged. Still, soft cases are generally slightly cheaper.
Hard Bassoon Cases
Hard cases are typically made out of hard plastic, wood, or hard leather.
Some hard cases have a fabric exterior over the hard interior. They come in the same shapes as soft cases.
While hard cases can be bulkier and harder to carry, they are vastly superior at protecting your instrument. The plastic cover provides greater protection from external harm, and your bassoon's joints are more likely to stay in place if you happen to drop it.
Bassoon Bocal Wallet
If your case does not come with straps for your bocal, or if you feel that your bocal needs extra protection, you should look into purchasing a bocal wallet.
A bocal wallet is somehow similar to a case for eyeglasses. It has a cushioned interior and a hard exterior that protects your bocal from damage.
Bocal wallets can cost anywhere from $30 to over $100.
Extra Space and Pockets
Any case you buy should have pockets and extra space within the bag to put other musical equipment. All cases should have interior compartments for each bassoon part and some will have an exterior pocket or pockets, that can serve to accommodate other music-related stuff or personal belongings.
The number of pockets may increase the price of the case, but you will need this space to hold your sheet music, metronome, uniform, and any other things you will need for performing with your instrument.
Zipper Cover for a Case
If you want extra protection from the elements or more pocket space for sheet music, metronomes, and other musical equipment, you should consider buying a cover that zips over your bassoon case.
Even though some are water-resistant and made for example from a weather-resistant nylon exterior, a rain cover can provide extra protection for your instrument and accessories.
However, this is mostly unnecessary for a typical student musician, and covers can cost up to $80.
If you buy a good quality case, a cover should not be needed.
---
Cost of a Case
The cost of a bassoon case depends on the brand and whether or not the case is hard or soft.
Typical hard cases cost anywhere between $130 and $250
Soft cases can generally be purchased for under $150
While soft cases are cheaper, hard cases are worth the extra price because of the better protection.
You can always save some money if you buy a used case. Just make sure that all parts of the bassoon fit snugly within the case.
---
Popular Brands for Cases and Gig Bags 
Marcus Bonna
Marcus Bonna is one of the most famous woodwind instrument cases. They are handmade and known for being lightweight, with a slim design but with sturdy construction. The interior of Bonna cases is designed so that the parts of the instrument are suspended and there is no pressure on the key work.
Protec
Protec is one of the most popular music instrument brands for carrying bags. They provide high-quality, solid construction and enhanced durability models. For bassoons, they have two models: one as a case, with their Protec Bassoon PRO PAC Case; and the other being a gig bag, the Protec Bassoon Gig Bag – Platinum Series.
Bam 
Somehow more costly, Bam Bassoon Cases are also more stylish with great manufacturing, offering a lot of conveniences to store and carry your bassoon in various environments or situations.
---
The Takeaway
Bassoons are fragile and finicky instruments, which is why it is necessary to buy a good quality case.
Hard cases are better than soft cases at protecting your bassoon and keeping the different parts of your instrument in place. While soft cases are generally cheaper, hard cases are worth the higher price.
It may be necessary to purchase a bocal wallet to protect the smallest part of the bassoon.
---
What is the Difference Between a Bassoon Case and a Bassoon Gig Bag?
There is no difference, but professional musicians tend to call their cases gig bags.
How Much Does a Bassoon Case Cost?
Hard bassoon cases usually cost under $200, while soft bassoon cases usually cost under $150.
What are the Pockets on the Bassoon Case For?
The pockets on the bassoon case are for things you will need to perform or practice, like sheet music, a metronome, or a uniform.
Do I Need a Zipper Cover for my Bassoon Case?
You shouldn't need a zipper cover unless you will be in severe weather with your instrument.