If you've visited a Sam Ash you may have seen their line of instruments called Jean Baptiste.
What are these like? Are they any good?
We will explore these topics in this article.
What are Jean Baptiste saxophones?
Jean Baptiste instruments began business in 1932 in New York. Jean Baptiste saxophones have been the in-house instrument brand for the musical instrument retailer Sam Ash.
However, now you can find the saxophones also online in various retailers such as Amazon.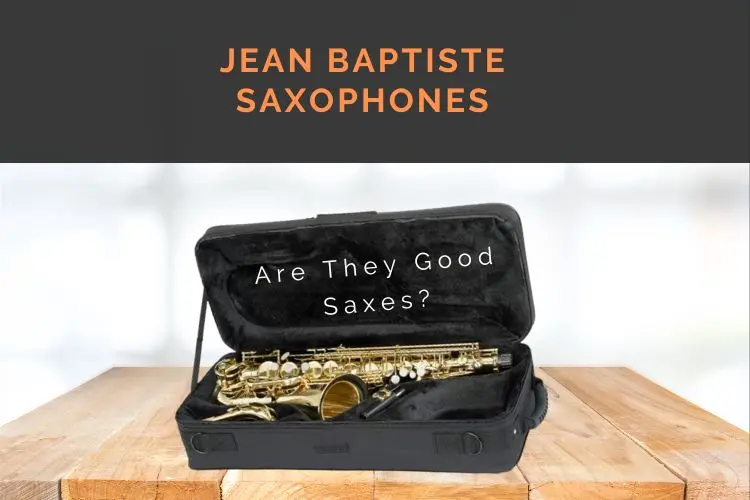 Why Choose Jean Baptiste?
Jean Baptiste saxophones are marketed as an affordable instrument for beginners or intermediate players. They sell all four saxophones in common usage.
The manufacturing factory for Jean Baptiste has changed over the years, leading to some unreliability in the quality.
However, in recent years, and especially with the advancement of manufacturing in China, Jean Baptiste has been able to present some quality instruments.
They have previously been advertised as being made in Vietnam, China, and Germany.
Currently, Jean Baptiste saxes are being made in Taiwan. Taiwanese horns are generally some of the best quality for the money that you can find among saxophones.
Pros:
Affordable Price
Recent improvement in quality
Sam Ash offers buyer confidence
Cons:
Unreliable reputation
There are other brands in the same price range with a better reputation
---
Features
The new Jean Baptiste alto and tenor saxophones have an improved neck which improves intonation, projection, and ease of playing. This is a great upgrade, as the neck itself can make the saxophone great or poor-the neck has greater control over your overall sound than the body.
The new saxes also have metal resonators, which means the saxophone may be a bit louder overall.
The stainless steel springs on the new saxes means the springs will be less likely to rust, as often happens with the springs.
The new saxes also have single post construction – which isn't a huge deal, but it may make the saxophone last a little longer and be easier to fix.
Jean Baptiste Alto Sax (290AL model)
https://www.samash.com/jean-baptiste-290al-alto-saxophone-jb290alxx-p
Jean Baptiste Tenor Saxophone (JB290 Student model)
https://www.samash.com/jean-baptiste-jb290-student-tenor-saxophone-outfit-jb290tlxx-p
However, there appears to be little information or acclaim toward Jean Baptiste saxophones.
Jean Baptiste put forth a series of promotional videos for each of the four saxophones, but provide the same scripted information for each saxophone model, and they do not play the saxophone during the video.
In contrast, Jean Paul saxes have numerous reviews and videos by professional players that are impressed by the quality.
How They Are Seen By Sax Players
Jean Baptiste saxophones have very mixed reviews.
On the internet you will find a lot of contradicting information regarding Jean Baptiste saxophones. Since they have been around for many years, the level of quality has gone through many transitions.
However, currently with their level of production, they are receiving favorable reviews.
Some professionals use them as backup, or primary horns. The new 290 model appears to be quite favorable, with new construction and design.
---
Sax Alternatives to Jean Baptiste
Jean Baptiste student model saxes, running at about $700 in the alto model and $1,000 for the tenor model, are more affordable than some of the old standards such as Yamaha. But how do they compare to other beginner saxes?
Jean Baptiste Vs Mendini Saxophones
The quality is arguably better than that of something like Mendini saxophones, which can be purchased for around $300 for the alto model.
Jean Baptiste Vs Jean Paul saxophones
Jean Paul saxophones are generally leading the way as the best saxophone for the buck.
There are many reviews about the amazing quality for the money, where Jean Baptiste saxophones have little similar information.
Also, Jean Paul saxophones are a little bit cheaper, running at about $600 for the alto model and $850 for the tenor model.
Jean Baptiste Vs Better Sax
Better Sax is another new brand that is starting to get noticed. Slightly more expensive than the Jean Baptiste, it is starting to get some good reviews.
Jean Baptiste Vs Other Reputable Brands
If you are looking to spend a little more money, brands like Yamaha, Selmer, and Jupiter all have student models with a reputation to back it up.
---
Advice for Potential Buyers
My advice is that Jean Baptiste could be a viable option and a considerable bang for the buck, but I have a couple considerations:
Don't buy a Jean Baptiste sax used. This is because their quality has changed over the years, older saxes may not be worth the money. If you are looking for a used sax, get a Yamaha. Yamaha is incredibly reliable and stands the test of time.
Avoid to buy it online from third parties like eBay or Amazon. Sam Ash has great return and buyer confidence policies. If you live near a Sam Ash store, Jean Baptiste could be a great option. Make sure you try out the sax before you buy it.
If you are buying online, your best bet is Jean Paul, or Better Sax. Other options are Mendini and Eastar, which are cheaper and lower quality, but appear to be reliably the same level.
---
Conclusion
Jean Baptiste saxophones have a rather unreliable reputation.
Previously, they were not considered to be of any great quality, and the manufacturer changed frequently while maintaining the brand Jean Baptiste. They were considered more of an entry horn, but among entry horns there were more reliable brands in the same price range.
But, things have changed as manufacturing in the Far East has changed.
It is advertised that Jean Baptiste saxes are now made in Taiwan, a location that is known for producing some of the best saxes for the money, which brands such as P. Mauriat.
It is also referenced many times on the internet that Jean Baptiste saxophones are produced at the same factory as the Selmer Aristocrat, making the Jean Baptiste the same saxophone at half the price.
In a Nutshell
The new models of Jean Baptiste appear to have great construction, resembling that of a Yamaha. Some pros are using Jean Baptiste as well.
If you live close to a Sam Ash store, Jean Baptiste might be a great option.
However, if you are simply trying to get the best bang for your buck and want to buy online, you are better off going for Jean Paul, Better Sax, or a used Yamaha.
---
Author: Cooper White
Cooper is a Multi-Instrumentalist, with vast knowledge and experience performing with Sax, Flute, Clarinet, Keyboard, and Blues Harmonica.
With a Bachelor's Degree from the Berklee College of Music in Boston and studies in Classical Performance at the Lionel Hampton School of Music, he has also more than 10 years of performing professionally, whether while road touring in the U.S. or playing on different cruise ships.
He is also an entertainer with his shows, as well as a producer of his music and others. Whenever he is not performing, he teaches individual online classes. He mostly plays Jazz, Classical and Popular music.