Are you looking for a good beginner flute for yourself or your child? I'd recommend you try the Yamaha 225SII to determine if it's a good option for your needs.
What Is the Yamaha 225SII?
The Yamaha 225SII is an entry-level flute, and it's great for kids and adult beginners. While it's not the newest student model Yamaha, it still works well if you can find a used one.
The 225sii Yamaha Flute Product Summary
The Yamaha 225SII is an older beginner flute model, but it has many of the same specs as newer flutes.
This model is fantastic for beginners since it's very durable. You can get a good sound out of the flute without needing a ton of practice.
Like other beginner flutes, the main purpose of this model is to help you learn the basics. It features a silver-plated headjoint, body, and mechanism.
The flute also has plateau closed-hole keys, which means you can close any part of the key to close the tone hole and play the correct note.
That can come in handy for beginners who are still learning how to hold the instrument.
You'll also get a C footjoint on the 225SII Yamaha flute. A C footjoint keeps the flute from being too heavy, which is great for when you first learn the flute. Meanwhile, there's an offset G key, so your left ring finger doesn't have to reach as far to close the key.
If you're looking for a suitable flute for a beginner, give this model a try.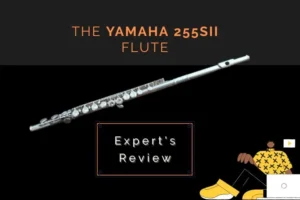 Why Choose the Yamaha 225SII?
You should choose the Yamaha 225SII if you want an affordable beginner flute.
New Yamahas can sell for $1,000 or more.
However, you can find a used Yamaha 225SII for about $200 to $400 depending on the quality.
Pros
Affordable
Excellent for beginners
Durable
Nice sound
Cons
Not available new
It has a slight learning curve for absolute beginners
The Yamaha 225SII Features
Closed-Hole Keys
Closed-hole keys refer to keys on a flute where the keys are full circles rather than rings. As this model is characterized by that.
How It Works
As a player, you can place your fingers on any part of the keys to properly close them. When you press down on a key, you can press on the center of it or in the middle.
Many flutes have open-hole keys, with a hole in the middle of the overall key. That means you have to cover the hole as you press down on the key to produce the correct note.
Benefits
Most beginner flutes have closed-hole (also called plateau) keys. That way, you don't need the perfect hand position to play well.
Since closed-hole keys are more forgiving, you can make more progress quickly. You can focus on learning the basics, and you can work on your hand position later.
While they're not as common on professional models, some advanced flutes have closed holes as well. The keys come in handy for players with short fingers, arthritis, or other issues.
Closed Hole Keys Vs. Opened Hole Keys
In the following two images, you can compare what closed hole and open hole keys look like in a flute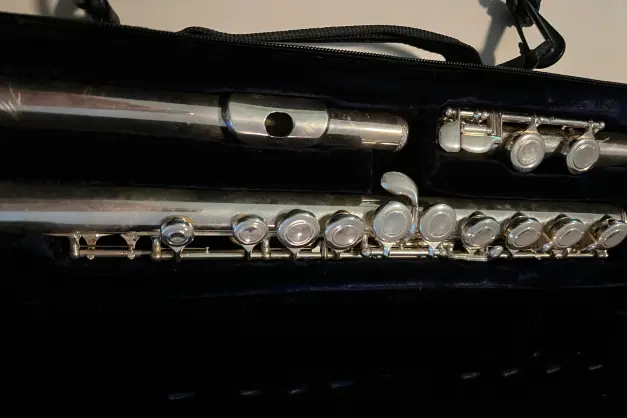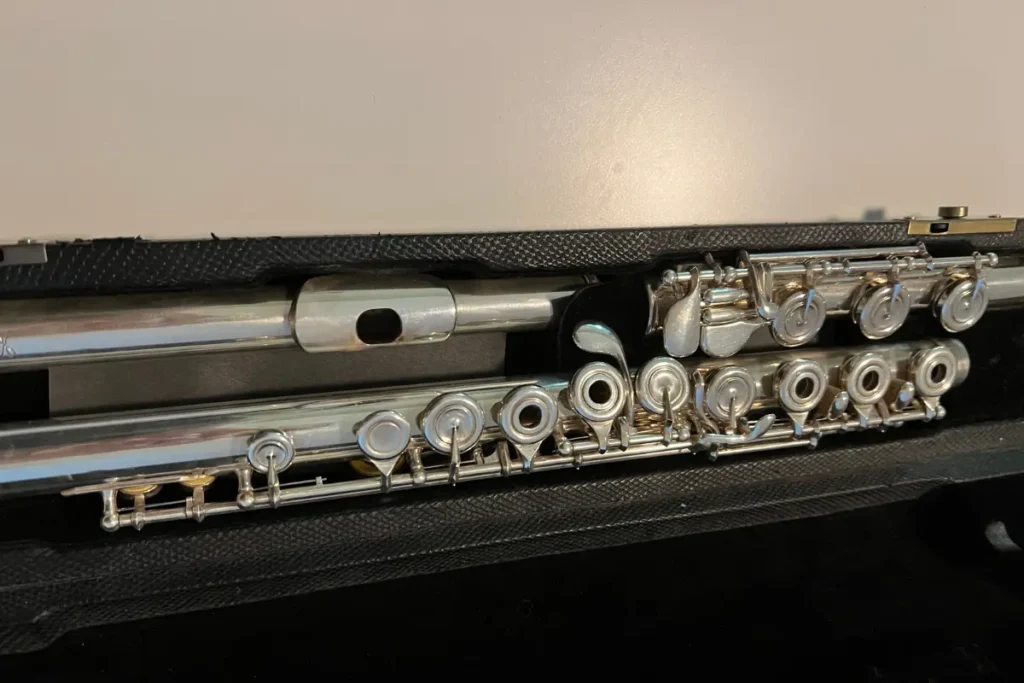 Offset G Key Feature
The offset G key refers to the position of the key your left ring finger triggers.
How It Works
An offset G key isn't in line with the rest of the keys on the flute. Instead, the maker shifts the key to the left so that it's easier for your ring finger to reach.
The G comes from the fact that closing the key (with other keys) helps you produce a G. This feature is particularly useful on open-hole flutes, but it also helps beginners play.
Benefits
If you have an offset G, your left hand can feel more comfortable as you play the flute. For people with small hands or short fingers, reaching an inline G can cause unnecessary tension.
Since many flute beginners are kids, they're still growing. If you buy a flute with an inline G, your student might need to stretch too much, which can lead to pain.
The offset G solves that issue and allows players to hold the flute without as much stress. That can make playing the flute more enjoyable.
Supporting Video
Evidence On Why the 225SII Is a Great Choice for Beginners
The 225SII was a common choice for beginners in the 1990s and early 2000s.
Flute player and YouTuber Joanna says the flute's headjoint is "nice, pretty and beautiful".
She also says the Yamaha is "more refined" compared to other models.
For used models, some players have said the flute is in excellent condition, while others said the flute's condition is poor or average. Now, that is a risk you take when buying a used flute, especially if you don't get to try it before you buy it.
Best Alternatives to the Yamaha 225SII
Before you decide on the Yamaha 225SII, you might want to consider a couple of other student models. The following models should be on your list.
Yamaha 222
The Yamaha 222 is the newer version of the 225SII.
It has the same specs as the older model, but you'll be able to find this flute at various music and flute shops.
Then, you won't have to buy a used flute and risk it not being playable.
Difference Between Yamaha 225N and 225S
When you compare it to other models, like the Yamaha 221 vs. 225, there aren't that many differences. They all come in the same standard Yamaha case. You'll get a silver-plated instrument with closed holes and an offset G to help you start learning the instrument.
Trevor James 10X
Another excellent beginner flute is the Trevor James 10X.
It features the same materials and specs as the Yamaha flute, so it sounds very similar.
However, the flute comes in a much different, arguably better, case.
The Yamaha case is plastic and has space for the three parts of the flute. If you get the Trevor James 10X, you'll get it in a case with a fabric lining and a zipper closure. That can help you keep your flute more secure when you play it.
Conclusion
The 225SII Yamaha flute model is a fantastic choice for beginners.
While it's an older model, it has some popular student flute specs that help you learn the basics.
Since it's older, Yamaha doesn't sell new 225SII models. However, you can find some on the used market and save a significant amount compared to buying a new flute.
Common Questions About the 225SII Model
What's the Yamaha 225SII Price?
The price of the Yamaha 225SII ranges from $200 to $400. It depends on the condition of the specific instrument. Some flutes are in better condition and so cost more. 
Is It a Good Idea to Repair an Old Yamaha 225SII?
Repairing an old Yamaha 225SII can be an excellent decision. If the flute needs a lot of work, though, repairs could cost as much as you'd spend on a newer student flute.
Where Can You Sell a Used Yamaha 225SII?
You can sell a used Yamaha 225SII on your own, such as through Facebook Marketplace, Craigslist, or Reverb.com. Another option is to consign it with a music store, but the store will take a cut of the sale price.