A flute can simply be described as a reedless wind instrument or an aerophone that produces a beautiful sound from the flow of air across an opening. It can therefore be classified as an edge-blown aerophone.
Being one of the most popular instruments to play in a band, especially on a beginner level, for those interested in learning the flute, it is important to know the best type of flute for starters. In this article we cover:
What are the best flutes to buy for an entry-level player?
What should you look for when buying a beginner flute?
Here are some of the best flutes for beginners
Sonata Student Flute FLE701
This flute is designed with a beginner player in mind. This flute has robust construction which features a silver-plated body and head, a split E mechanism, an offset G and is delivered with a good quality case.
This is one of the best flutes for beginners available in the market today. It is very popular with schools due to its ease in playability and it's quite reliable. Many flute teachers recommend it since it has quality keys, it's well constructed and its pads are incredible.
The silver-plated body, head joint, and high-quality keys ensure that this flute lasts for quite a long time so it fits well even for children. The plate made of silver makes an incredible response and tone which is a good thing for beginners. The complete flute also has a very beautiful carry case that has adjustable and detachable shoulder straps.
This case has a soft molded interior and a really strong exterior which helps protect the flute from damages. The case also makes it easier to transport the flute too and from school for lessons and rehearsals. It also comes with a cleaning rod and cleaning cloth to help you keep the flute clean at all times.
Has high-quality keys and pads
Comes with a quality carry case
It is lightweight and easy to carry around with a shoulder strap
The sound quality is not that good
Elkhart 100 Series Flute-100FLE
This Elkhart is in the same market as the Sonata Student flute. Both of them are low-cost starter instruments. Their features are similar too. This Elkhart flute comes with a lightweight protective case which makes it easy to move around with. It also has a silver-plated body and head.
Comes with high-quality keys
It's durable
It's lightweight and easy carry around
Easy to learn for beginners
The sound quality is not great
Nuvo Straight Head Student Flute in Black – NFS1
This flute is ideal for beginners who are looking for something more lightweight and has some tweaks to make it easier to play. This flute features a straight head joint that comes with an adjustable cork, its main body is made of silicon comfort pads and has FirstNote lip plates that are standard. It also comes with a carry case, a cleaning cloth, a G key extension, a keycap tool, a grease pot, and a C foot joint.
The role of the FirstNote Lip Plate is to ensure that the user has a guideline to enable you to generate notes before using the standard lip plate. Having this, the instrument gets the standard flute fingering which makes it legible to be used on any kind of occasion. This makes it an excellent lightweight alternative to the traditional flute.
It comes with a robust carry case
G key and C foot are provided
It is available in a sleek black finish
It's lightweight and ideal for beginners
Yamaha YFL212 Student Flute
This flute is one of the latest models from Yamaha which has an improved new look and playability. The manufacturing process of this flute has completely been redeveloped and redesigned. This includes silver-plating, lip-plate, and head-joint. All this has been done to be able to bring one of the best flutes in today's market. This flute has been designed with the latest technology and craftsmanship which has made it one of the best-selling flutes for beginners. The key placements and shapes have been ergonomically been designed to give the user an amazing response and playability.
Since this flute draws inspiration from the traditional European style flutes, it has been made with pointed key arms on non-fingered keys. Normally, these pointed key arms are often found in professional-level instruments and offer the player increased stability and improved aesthetics. Additionally, there are unique screw resistance inserts that will prevent the screws from loosening over time.
It features non-fingered keys and pointed key arms which results in improved response and aesthetics
Its keys are ergonomically designed for comfort and improved playability
It comes with new optimized pads for long-lasting stability
It has an amazing new cup style which makes it look like a professional flute
It produces a low-quality sound
Trevor James TJ10X MKIV Flute 3041E
This flute is preferred by beginners due to its ease in playability. It's typically an instrument that is blowing freely thus allowing one to quickly learn how to play the instrument quickly. It features high-quality Italian pads, a silver-plating, and acoustic tubing of Japanese descent. It also comes with a Super 'Prolite' case which makes it an ideal outfit for every flutist out there.
 Here are some of the features of this flute: 
It is designed with tightness and accuracy of all fitting of the key assembly which gives the student a positive and secure feel.
The finishing has been done with fine attention to detail during the finishing of all the key work. This is all done to ensure that the instrument looks reliable and outstanding.
It comes with a shoulder strap which helps you carry it around with ease
It is designed with some incredible felts rather than the typical cork under the tail arms which makes it a very quiet instrument.
This flute is designed with advanced head-joint features which helps a beginner to make easy production of beautiful sound.
This flute is affordable
It has a triple plated finish
Easy playability which makes it easy for beginners
Sometimes the player may struggle to produce the desired sounds
---
What to Look for in a Student Flute?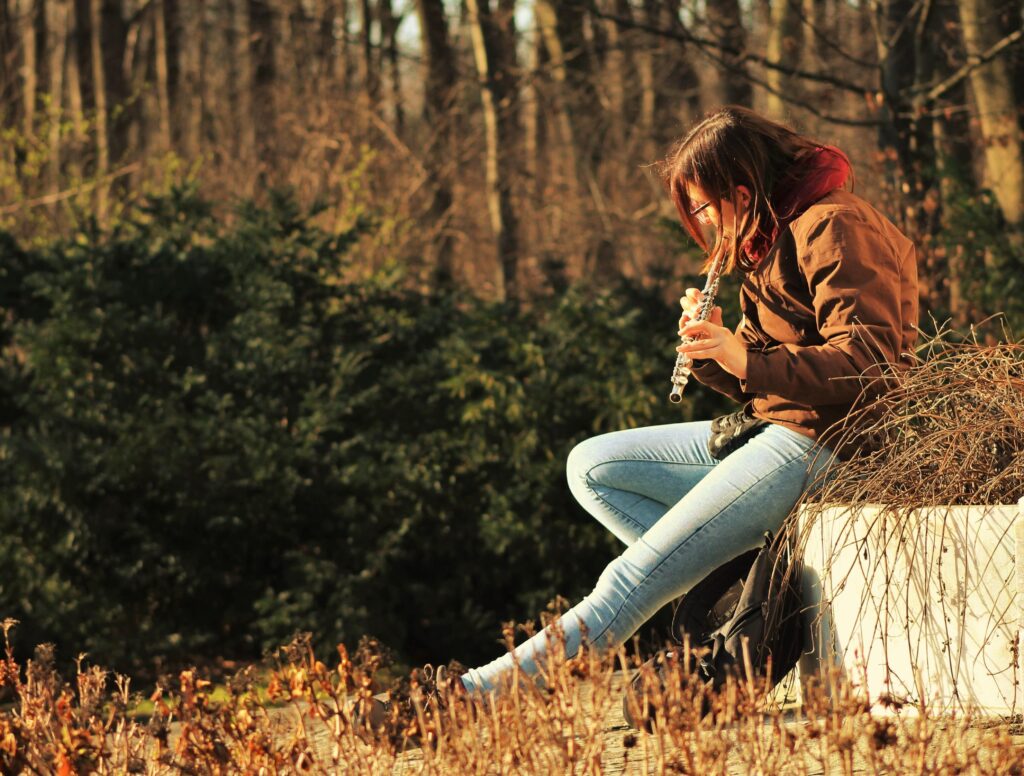 Purchasing a flute for a beginner can be a daunting task because you specifically want the best that will fit them and encourage them to learn. A quality beginner flute should be lightweight, easy to play, and able to withstand bumps and knocks. It should also be pocket-friendly and long-lasting.
---
What to Avoid in a Beginner Flute?
The flutes discussed above are ideal for beginners. The reason behind this is that all of them are easy to play hence the user will be motivated to learn.
But there are some things you should avoid as much as possible when looking for entry-level flutes, even if it's a used flute. You can get fair used flutes at half of the price of a brand-new one. If you want to know how much should a used flute cost, check this article.
A poor flute is made of low-quality building materials that can have an impact on the sound it makes and on their the flutist's budget. Risking into buying a flute that makes low-quality sounds and might wear out quickly will just slow the learning process and the enjoyment a beginner needs to keep motivated on playing the instrument.
Reasons For Avoiding Lower Quality Flute
Typically, has a poor tone (sound).
Consider the amount of time and money you might spend on repairing or maintaining a low-quality flute, influencing directly your budget as well as the time you practice
A minimal ability to create different "tone colors".
Has a minimal ability to play both soft and loud levels.
It can be practically twice as hard and also takes an unnecessary physical effort simply to produce a sound
Some are heavier as well as clunkier than normal
It can test a pro flutist to play harmonic sounds, imagine a beginner…
It might dissuade even the most talented beginner.
You might to a point where unless a brand-new flute is purchased you won't have the ability to improve as a player.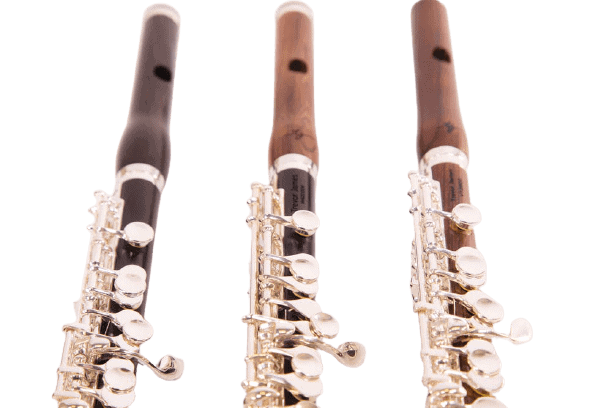 Flute Brands to Avoid
As happens with other band instruments, you have plenty of brands to choose from, which are consistent and provide good quality models whether for a beginner or a more advanced player. However, that doesn't mean that every flute brand you see in the market is good. There are definitely some flute brands that you should avoid.
In general and despite that they have been getting better overtimes, it's widely known that flutes of most Chinese brands are cheaper but also with less quality and should be avoided. Sooner or later it might cost you more to repair or break, ending up in losing all the money you invested in the instrument.
It's true that some well-known flute brands, even Americans, that you see in the market have some parts or are totally produced in China. But such brands normally get several parts produced in China and keeping the quality control high before assembling the full instrument in the US or Europe. The brands you normally should avoid are Chinese ones that typically have extremely weird English names.
---
What are the best flutes to buy for beginners?
The following flutes are best suited for a beginner player starting and looking to evolve:
– Yamaha YFL212 Student Flute
– Trevor James TJ10X MKIV Flute 3041E
– Nuvo Straight Head Student Flute in Black – NFS1
– Elkhart 100 Series Flute-100FLE
– Sonata Student Flute FLE701
What to look for in a beginner flute?
You should look for its weight, how easy it is to play, and if it's able to withstand bumps and knocks. It should also be pocket-friendly and long-lasting.