You protect everything you can't risk damaging: your phone, your car, your health.
Your trumpet is certainly no exception to this rule.
At any stage of playing, a good quality case to protect your trumpet is a must. While a few blemishes to its surface here and there may not seem to be a big deal, damages like those can impact your instrument's ​sound quality​ and ease of playing. And if you ever intend to sell it, those damages can reduce its worth.
A quality trumpet case insulates your instrument from these hazardous fates; while they can get expensive, the investment pales in comparison to the costs of fixing serious damages.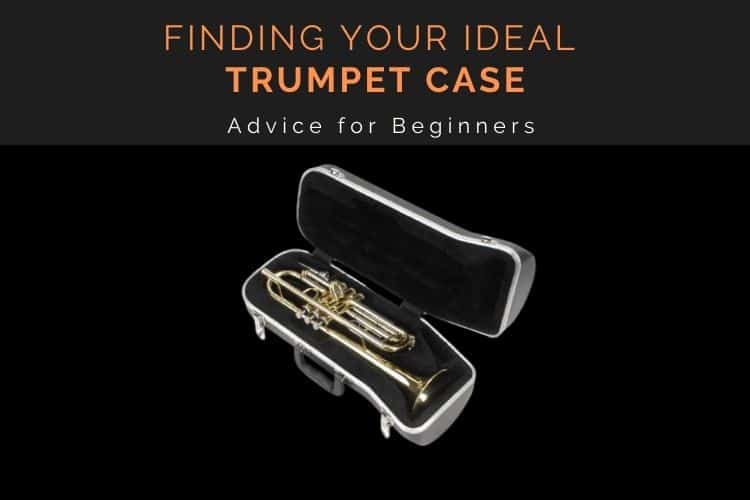 Searching for a Quality Trumpet Case or Gig Bag
Luckily, you have options to fit your budget and your needs. Most importantly, you have a wealth of information available online: customer reviews, recommendations from trusted sources like your local instrument shop, forum pages for trumpet players, the many musical professionals of YouTube.
With a little guidance, you will be well on your way to finding the perfect trumpet case for
you.
Here are a few important things to consider throughout your search:
Where to Search for Your Trumpet's Case
The real question is where ​not ​to search; there are countless vendors out there, for both new and second-hand cases. It should be your priority to look through a variety of sites, check out ads on Facebook Marketplace, Craigslist, and Trumpetherald, browse your local music store (online or in-person), scrolling through the websites of as many brands as you've heard of.
If you get stuck, seek advice from fellow musicians, friends on social media, trumpet-specific forums. Especially if you are new to instruments and their maintenance, you'll benefit from the knowledge of more experienced people.
While this may be somewhat time-consuming, it's important to walk through a good mix of resources and perspectives while you're researching. This way, you'll be able to compare the prices, quality, features, and costs of various brands sold by various vendors.
---
Why You Might Need a Trumpet Case.
Most of the time when you buy a trumpet, a case will be included.
Most manufacturers include with the purchase of the trumpet an appropriate case in which to store and transport the instrument. Many of these cases are quite good and, with good care, will last the life of the instrument.
However occasionally when purchasing a trumpet second hand it will not come with a case. Perhaps one of the original owners lost or discarded it or maybe it didn't stand the test of time. In that case, you'll need to purchase an appropriate case. 

The other reason for needing a new or different case is because you have very specific needs.
Lets say perhaps you're an advanced player or professional. You may need a case that allows you to carry multiple trumpets. Or perhaps you're a musician that travels a lot and needs a small and compact case. The most important part of purchasing a trumpet case is determining what you need. 
If you're a beginning trumpet player chances are you have either purchased a new student-model trumpet or are renting one from a local music store.
In that instance, the expectation is that your instrument was given to you with a perfectly good case that will last for at least a few years. As stated above, most often the manufacture of the trumpet will provide a perfectly capable and appropriate case for the instrument. The only reason you might require a case for your trumpet is if the original one has become broken or lost or if your needs have changed.
---
What Type of Case Will Suit You?
After an initial skimming of what's on the market, you should have a fairly clear understanding of what you need to fit your budget, style choices, and feature preferences. This will help to narrow your scope before choosing which type of case will be best for you.
What Is the Difference Between a "Case" and a "Gig Bag"?
Certainly in your search you've come across both trumpet cases and trumpet gig bags. You must understand the difference between the two. In general, it can be broken down like this. 
A case is a sturdy, hard-sided container that will provide the greatest amount of protection and support for the instrument.
A gig bag is most often a soft-sided bag that provides very little protection and support for the instrument. 
The logical question is why would anyone want a container for their instrument that is less protective. Well because a gig bag does not have a hard-sided exterior the bag can weigh less and take up less space. This sort of case is ideal for the on-the-go performer having to save on space and weight when traveling. 
A word of warning to young players
I've personally seen the way young trumpet players swing and throw their trumpet cases around. Gig bags should only be used by those mature enough to know that inside of that soft bag is a very fragile, very expensive instrument. Beginning players should be given hard-sided cases. 
If you are someone looking for a smaller and lighter case that is hard-sided and still provides excellent protection, one of the following options should be considered.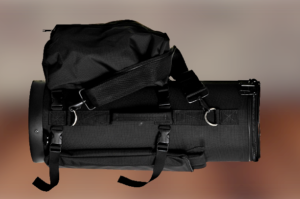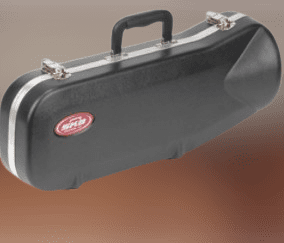 Think to yourself where and when you'll be lugging your trumpet around:
Would a backpack trumpet case be useful for biking with your instrument?
Would a small gig bag do for car or bus transportation?
How often do you travel with your instrument?
Will the case need to fit in an overhead compartment on an airplane?
Does the case need to hold more than one kind of trumpet? 
Would you prefer having wheels on your trumpet case?  
Do you plan to play the trumpet for years and years to come, or will your musical career end after high school?
These questions will help you pare down your research time and find your ideal case. Use keywords in your subsequent searches to narrow down your results.
If you know you'll be using your case for an indefinite period, look for high-quality, durable materials: thick, hard plastic shells; tough, tightly woven fabric; shock-absorbing, insulating foam padding.
Two-strap backpack cases are great for easy, hands-free transport, and will also reduce the risk of dropping your instrument.
Set your standards a little above what you believe you could make do with; no matter the amount of time you plan to have your case, it's better to have one good one than need to replace a cheap alternative you have to replace in six months.
---
Choosing a Quality Trumpet Cases Brand
While a brand name isn't everything, most well-known companies will likely make a good case. They have models for gig bags, backpack cases, wheelie carriers, and special mute bags.
Each has a pretty wide selection of products, featuring different materials, designs, and financing plans. Some are personalizable through the embroidery of your initials; some come in multiple colors and patterns.
Here are the well-known brands that should be a good option when deciding on a trumpet case:
---
Tips When Selecting Which Case to Buy
When perusing a site's selections, sort in a few different ways (by price, relevance, popularity) to increase the variability of your search results. Be wary of brands that have few or poor reviews, particularly if the only pictures available are from the product listing. Look for detailed descriptions of the case's features, materials, and warranty (if applicable).
Choose a few brands you like and have found a good amount of positive feedback on, and start looking around different platforms for prices that fit your budget. This might be on the brand's main website, a second-hand site, or another online retailer like Amazon or eBay. Look out for shipping costs, and do your best to screen out counterfeit products or damaged used cases.
If you're going second-hand, start up a conversation with the seller; make sure you've seen clear pictures of both the inside and outside as well as any torn or stained areas. If there are damages you think you could fix, you may be able to negotiate a cheaper price while ending up with a good case.
---
Takeaway on Getting a Case for Your Trumpet
The process of finding a suitable trumpet case may seem daunting at first, especially for trumpet beginner players, but just know that your options are endless. Understanding your needs and keeping the search organized is critical in picking out the best case for you.
Getting a case might be the most important investment you make of all the essential trumpet accessories. A good trumpet case is not only important in preserving your instrument's musical quality; it will prevent cosmetic damages and maintain its resale value if you ever choose to sell it. The case itself will also be valuable for future sales if it is particularly durable. Wherever your search leads you, you're very likely to find something that covers all your bases.
Best of luck in this process!
---
How Much Does a Trumpet Case Cost?
Trumpet cases might cost you from near $50 to $300 depending on if they are new or used and also dependent on the type of case and the brand.
What Are Trumpet Cases Made Of?
They can be made from wood, plastic, or leather. This will influence how heavy they are and the level of protection they give to an instrument.
---
Authors
Author: John
A band instruments enthusiast since my youth.
Currently, together with Isabella, we have two children starting their music careers. Now, we are rediscovering everything related to instruments and music in general.
Join us in this quest while we uncover all questions and curiosities about bands and instruments, with informative articles also written by a team of instruments experts, that are frequently published on the blog.
Reviewed by Kyle Mathees
Kyle is a trumpeter living and working in the Nashville, TN area. He holds a bachelors degree in trumpet performance from the University of North Dakota and has recently finished his Masters of Music degree from Belmont University.
Apart from various performing commitments, Kyle maintains an active teaching studio and provides coaching and masterclasses for schools in the Nashville area.
Additionally, Kyle is an adjunct instructor in the music theory department at Middle Tennessee State University.