Buying a used clarinet can be an intimidating task for new clarinet players. We help you understand what to look for when buying a used model, where you can buy them, and how much should you pay.
How much are used clarinets worth?
Where to buy used clarinets?
What if it's not in good condition?
Does it come with other accessories like synthetic or cane reeds?
Together with opting to rent a clarinet, purchasing a used clarinet is often seen as an excellent alternative to buying a new model. The last one always gives you more assurance in terms of what you are buying. However, there are times when buying a used one may turn out to be a better option.
---
Where to Buy a Used Clarinet?
Once you have looked at a specific type of clarinet, it is time to make your purchase.
Some of the best places to buy used clarinets are through private market sellers. There are plenty of players looking to sell used or old clarinets in marketplaces like Craigslist, Reverb, eBay, or Facebook Marketplaces. There you can find used clarinets for sale from various brands. 
We've detailed the pros and cons of each of those famous online marketplaces to buy band instruments, in the following article.

Another great option is if you have a music store near you, they should be able to recommend you the best options and you can check the clarinet model in person.
When you're shopping around for a used instrument, it's best to start researching specifically by price range and location if needed so that you can find one near your home or where you play in the band.
---
What to Know When Buying a Used Clarinet
You might wonder at first how a second-hand clarinet compares to a new one in terms of price.
Used student clarinet prices can range greatly from around $25 to $700, depending mostly on its condition, material, and brand.
For comparison, the price of a new student clarinet can vary from $250 to $1000, depending on the brand, the model, and its material.
Important Factors to Consider Before Buying a Second-Hand Clarinet
There are some factors that you want to consider when buying a used clarinet, no matter what type you're looking at. The most important thing is to ensure that the instrument is in good condition and doesn't have any major damage. Some potential issues with old instruments can be cracked keywork or damage from previous owners dropping it on its bell.
Does it have any missing pieces?
Any cracks or damage in the wood or plastic parts of the clarinet?
You also want to check its case and mouthpiece. Is there evidence of water damage?
These tips also include checking the pads and valves, as well as the screws on top.
The condition of the clarinet can vary greatly from one seller to another. You'll want to inspect closely how clean it is as well as look for any blemishes or scratches on its surface. If there are too many signs of wear and tear then don't consider buying it as it might cost more and really won't perform well.
---
Best Brands for Used Clarinets
We present range prices for some of the most popular clarinet models in the market. Those are estimated according to Reverb.com, only considering models which at minimum are in a good condition.
Yamaha Used Clarinets
Yamaha clarinets are one of the most popular brands to start with.  
A Yamaha used student clarinet could range from $200 to $500 (for example the Yamaha YCL-20 model), whereas an intermediate used one could cost you between $600 and $1300 or even more (take the Yamaha YCL-450 as an example)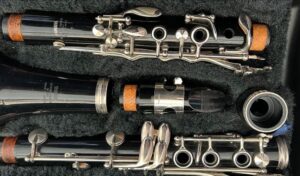 Selmer Used Clarinets
A Selmer used student model could range from $350 to $600, and a more advanced professional second-hand one could range greatly, from $1000 to $4000 or more.
Buffet Crampon Used Clarinets
A Buffet Crampon used student clarinet could be between $900 and 2000$, for example, the Buffet R13, which suits most player levels.
Leblanc (Vito) Used Clarinets
Vito used clarinets are a cheap option running from $50 to $300. They are a little lower quality than the other brands but generally have a high level of playability for a beginner.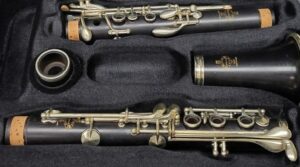 ---
Used Wooden Clarinets for Sale
If buying a used clarinet, go for wooden clarinets. Our comparison between the two clarinets types, wooden and plastic details why. But buying such types of models can be a difficult process.
Wood is sensitive to rapid temperature changes and can degrade over time. And you will be best served if you can try out the wooden clarinet before purchasing if possible.
You want to make sure you're getting the best quality for your money, but it's also important to know what type of wood is being used in the instrument and how old it is.
The main type of wood for clarinets is Grenadilla (African Blackwood). Some older clarinets may also be made of Ebony, a similar wood to Grenadilla. Grenadilla comes from Central Africa while Ebony comes from West Africa with Grenadilla being more common than Ebony on instruments. Also, clarinets are sometimes made from Rosewood, a softer wood with a slightly different sound.  
---
Why Should I Buy a Used Clarinet?
Perhaps your budget doesn't allow for purchasing an instrument new or you're looking to upgrade from what you currently own.
Whatever your reasons may be, it's important to remember that buying used can be more beneficial in some ways than buying a new clarinet.
The main reason for this is that you have more of a chance to research the model, make sure it's the right size, and determine if this instrument will suit your needs or not.