As a saxophone player, I understand the inquiries as to what kind of saxophone gifts should you give to a player on a birthday or holiday.
There's a number of routes to go when picking a unique and personalized saxophone gift, so we hope to narrow down your selection for the special saxophone player in your life. For some people (including me), their instrument is one of the most important parts of their life, so giving the correct gift is important.
Whether he or she plays the alto, tenor, baritone, or soprano saxophone, the following list presents useful and cool gifts for saxophone players. They are great options to offer, whether in the Christmas season, as a birthday present or to celebrate a special occasion. 
---
Saxophone Accessories – Functional Gifts
These gifts will provide a helpful function for the saxophonist, to make either playing easier or make the upkeep of the instrument easier. 
⦁ Key Leaves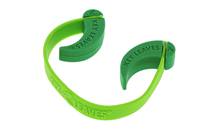 You might be asking yourself what this little green rubber thing is, but it has proven to be one of the most useful sax products I have.
A common problem that most saxophonists likely know is the sticking of keys. Moisture builds up inside the sax, whether or not you swab it, and the keys stick despite being pressed.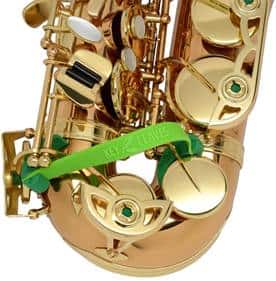 Key Leaves prop open the keys that often stick so that the moisture doesn't build up and create sticking. This product is one of the favorites that I own, and definitely the most useful.   
⦁ Spit Sponge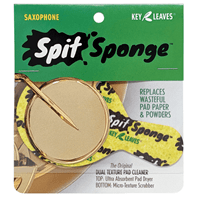 Brought to you by the same makers of Key Leaves, the spit sponge can act as a secondary tool for unsticking keys.
You put the sponge in between the tone hole and key that's stuck, and pull it out to wipe away any moisture or gunk that causes the sticking. I own this product as well and use it on my older horn.  
⦁ Oleg Sax Enhancer
The Oleg Sax Enhancer is for the more advanced or professional saxophone player. This is not recommended for a younger player, but a more experienced one who potentially plays either semi-professionally or professionally.
This product goes onto an arguably hard-to-reach key that older saxophones possess, and makes it feel like a more modern horn.
Instead of pressing the key with your finger, the sax enhancer attaches and makes the key more accessible.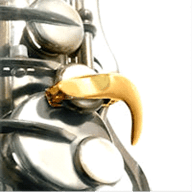 The enhancer can be seen above, attached to the pearl of the key. I have this on my older saxophone, and it has made access to that key much more effortless. 
---
Reed Tools/Accessories 
⦁ D'Addario Reed Case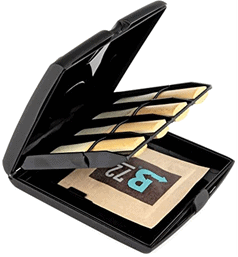 The D'Addario Reed Case has a small humidifier pack that ensures the sax player's reeds will not be warped or bent due to weather.
During drastic changes in weather that cause humidity changes, saxophone reeds warp, shortening the life of the reeds.
Considering that a box of 10 reeds can be up to $35, any saxophonist will want to get as much playing time from a single reed as they can.
I own two of these, one for my alto and one for my tenor. 
⦁ Reed Geek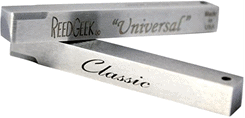 The Reed Geek is a tool for saxophone players that like to work on their reeds.
This is not a gift to give to a beginner, but definitely a more experienced player. The sharp edges allow for warped reeds to be worked on and fixed.
A book could be written on how to work on reeds/adjust them to the player's liking, so that's why this is a more advanced saxophonist gift.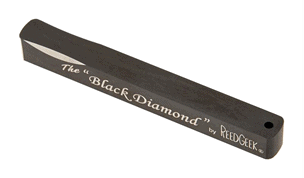 ---
External Saxophone Accessories
These gifts aren't as necessary or important as some of the previous gifts but are great gift ideas for a saxophone player.
They're more optional but are a little more unique compared to the other gifts. 
⦁ Jazzlab Sax Deflector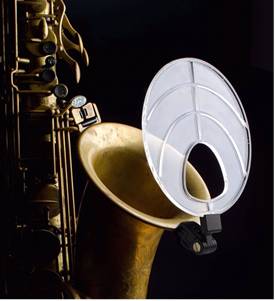 This item attaches to the bell of the saxophone and shoots back the sound waves back towards the saxophonist.
Depending on the room the saxophonist is in (especially outside), the sound waves emitted from the instrument can go any which way, preventing the player from getting a good read of how they sound.
If you've ever heard "play or sing up against a wall to hear yourself", this product allows the musician to hear themself wherever they are. 
  ⦁ Hercules Sax Stand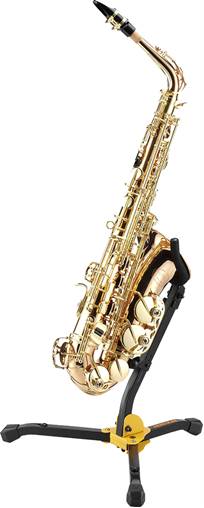 The Hercules Sax Stand is a sturdy, effective, and convenient tool for any sax player. It holds the saxophone securely, in a position that makes it easy to grab.
This is perfect for a musician that gigs a lot and needs a safe place to place their sax, or even a student at home who practices frequently.
Other companies make similar sax stands, but in my experience, this is more portable than the others.
They also make stands for baritone saxophones and also have attachments for a flute or clarinet. 
⦁ Jazzlab Saxophone Harness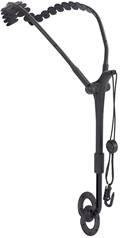 This sax harness is great for someone that might have back or neck problems that the saxophone might create.
A regular neck strap wraps around the neck and pulls down.
The harness goes around the shoulders and puts weight onto the stomach instead of the neck.
This product is great for an older player who might have any physical issues while playing their instrument with a regular but not so comfortable neck strap. 
---
Additional Ideas and Saxophone Gifts
We wanted to give you a more specific and unique list, especially with useful accessories and gifts, but there are also other classy but clever ideas that you can consider.
Ideally, you could pair a gift for saxophone players that we've identified above, with another gift idea below, perhaps a more affordable item.
Clothing
Sax T-shirts are quite popular, some with funky and funny messages written. As well as socks or other types of clothing that have sax-related stuff.
Home Decor Items
Sax Art: plenty to choose from. You can offer a simple canvas for decoring a wall
lamps with a saxphone form,
A wine bottle holder in the form of a saxophone, ideally for living or dining rooms (for adults only)
Additional Gift Ideas
Depending on how the player is into learning sax, a book about the instrument itself, could be extremely useful in their journey. Also, saxophone lessons, could be really worth it depending on the player's level.
An ultimate solution, despite of being less unique is a gift card to the music store they frequent. Even if it is an obvious present, it will be quite useful for him or her.
Of course, you also have the option to offer a saxophone itself. But this decision should be consulted with the sax player and with assistance from more experienced players, teachers or music store specialists. We've target exactly this in the following info guide about what saxophones are the best for students. And if deciding to buy a saxophone, a used one can be way cheaper and provide the same quality (we've done a detailed info guide on how to buy used saxophones)
The same is also true for saxophone cases and for sax mouthpieces.
---
We hope that this list helps any gift giver with their choice!
Any saxophonist will love any one of these gifts because all of them have a useful application.
Please reach out to us with any questions or comment below.
What Should I Buy for a Saxophone Player?
Ideally, you should buy a unique and useful accessory or item that the saxophonist can use frequently. We provide a list with several items that are both useful and of proven quality.