Do you have a trumpet lying around that you never play anymore? Maybe you've got a few extra dollars lying around that you'd rather spend on upgrading to another trumpet, or something else.
Whatever the case may be for selling your second hand trumpet, you probably don't want to throw away an instrument that might still be worth you some money.
But, how much can you sell a trumpet for? And where can you do the sale?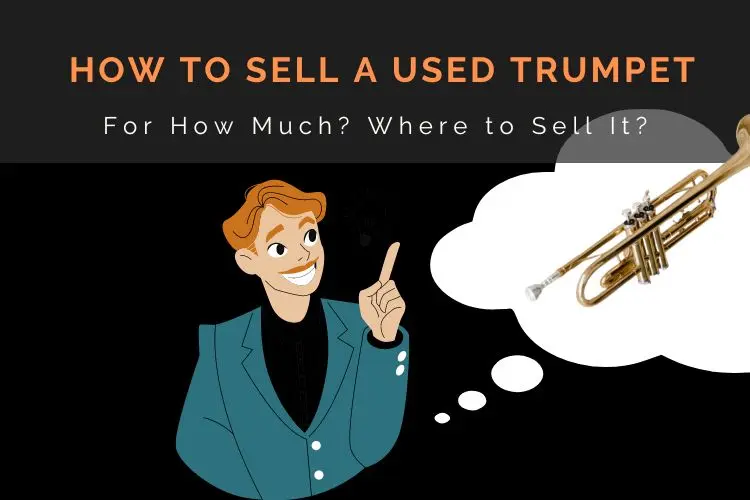 ---
How Much Is A Used Trumpet Worth?
The value of a trumpet varies depending on different factors.
From its current condition, to what type it is, how old or from what brand. These are the main factors influencing the price you will be able to sell it.
There are pre-owned trumpets that can sell between $500-$1,000 or more, while others only sell for $100-$200, or even less.
---
Factors Influencing the Price
Condition
Condition ends up refers to the sound quality of the trumpet. In general, better-sounding trumpets are worth more than those with poorer sound quality. However, there are exceptions. Trumpets with poor sound quality may be very inexpensive because they were poorly built or cheaply manufactured, or present many scratches or tears.
How Old It Is
Another factor influencing the price of a used trumpet is its age. Older trumpets tend to sell for less than newer ones. But bear in mind. Some older trumpets may be worth more than newer ones because they're from a specific brand or model that is quite in demand and are rare in the second hand market.
Trumpet Type and Player Level
Do you have a standard B-flat trumpet? Or a piccolo trumpet, flugelhorn, Eb trumpet, cornet, C trumpet? The trumpet type you have does influence how you price it, due to some models being in more demand, or with scarcer options available in the market. Even pocket trumpets have their pre-owned market with enough demand.
Also, the player level it's aimed at, factors in the price. Player levels include student or beginner, intermediate, and professional.
Materials and Their Finish
Materials include brass, woodwinds, and plastic. Brass trumpets are usually made out of nickel silver, copper, or bronze. Woodwinds are made out of maple, mahogany, or ebony. Plastic trumpets are usually made of polycarbonate.
Special Features
If you have a trumpet model that has a unique feature, then you'll probably sell it for more. For example, a trumpet with a chrome finish would cost more than one without.
Also, will you sell any trumpet accessories with the instrument?
For example, a trumpet case or a mouthpiece could be useful for a beginner looking for an instrument when learning to play it (through online classes or in a school)
Used Trumpets Prices From Popular Brands and Models
We've researched the second hand market for the price ranges of some of the most famous trumpet models, especially for beginner and intermediate level players. 
The Price Ranges for Used Trumpets of the Best Models for Beginners and Intermediate Players
In summary, to understand better what the instrument can sell for, try to identify and answer the following questions.
This way, it will be easier for you to set a price range you might sell it for.
Factors influencing the price of a used trumpet:
Condition – Is the trumpet in good shape? Any damages? Does it need repairs?
Age – How old it is?
Level Type – What player level type is it aimed at?
Materials – What kind of materials were used to build the trumpet?
Special Features – Any particular feature for that model?
Brand and Model – What brand is it and what specific model?
If you're selling a used trumpet, you should list the above information along with any additional details about the trumpet.
This includes things like serial numbers, manufacturer, model numbers, and any special features.
Once you've listed everything about the trumpet, you can use a price guide to help you decide what to charge for it.
You can also ask experienced trumpetists, colleagues, or professors who own and have played several trumpet models for their opinion. You can even try posting online to get some feedback from people who are interested in buying a trumpet.
How Much Does a Trumpet Cost (If Brand New)
In order to have an idea on how much a used model differs in price from a brand new one, we've listed below the prices for the different models list above. Note that the prices can vary considering when and where you look them from.
However, it's noticeable a big difference in terms of cost of used models Vs. new ones. In some cases, used models can be half or more of the price of a new model.
The Estimated Cost of The Most Known Trumpet Beginners and Intermediate Models
---
Where to Sell Your Used Trumpet. Online or Locally?
You can sell your trumpet online, locally, or both. You decide! 
These days, the most popular option is selling an instrument online. These have to do with the number of options that exist, and how easy it is. But going to your closest music shop or even a pawn shop is also a valid option and might get you a great deal.
Each of such options has its pros and cons.
Selling Online
There are many options for selling used trumpets online. There might be dozen of different ways to sell it online.
However, famous marketplaces like eBay, Craigslist, Amazon, and Facebook Marketplace are the most popular. More specialized online marketplaces like Reverb, are also getting more popular these days.
Advantages:
You can sell it online for free
It's easy to find buyers
In some marketplaces, you don't have to pay fees
Disadvantages:
There are no guarantees that you'll sell your instrument
If you're not careful, scams can happen
You might have to wait longer than you wanted
We've covered each of those popular online marketplaces in the following guide:
Guide to Selling Used Band Instruments
Selling Locally
Music Shops
Music shops aren't just places where you buy music; they're also places where you sell used instruments. Whether you're selling an older trumpet or a more recent version, you can expect something from it.
The downside is that it will depend if you have a music store nearby and if they accept used instruments as payment.
Some major retailers might also accept your pre-owned instrument.
Pawn Shops
Another option is to go to a local pawn shop. They usually offer lower prices than others, but it's a way of getting instant money from your older instrument.
---
---
7 Tips for Selling a Used Trumpet
Here are some tips when selling a used trumpet:
1. Know What You Have to Sell
First, you need to know what type of trumpet you want to sell. Do you actually have a vintage model or it's a more common one? Identify all necessary info that you have from the instrument. 
2. Research the market
Before listing your trumpet on any website, it is important to know what the market is like for that particular instrument. Is it a popular instrument? What kind of price range is expected? How long does it take to sell? These are all things that you should consider before listing your trumpet.
3. List Your Trumpet
Once you have researched the market, it's time to start listing your trumpet. Make sure that you include everything you think is relevant to the trumpet, including the serial number, the name of the maker, the year it was made, the type of wood it is made of, and any damage that it has sustained.
4. Choose a Good Photo
When listing your trumpet for sale, you'll want to include a good photo of the trumpet. The photo should clearly show the trumpet's details, including its serial number, model name, and manufacturer.
The photo should also be taken from a distance so that the trumpet appears larger than life.
5. Set the price
When setting the price for your trumpet, keep in mind that you will probably only get half of what you originally bought it for. However, if you set the price too low, you risk losing money. On the other hand, if you set the asking price too high, you risk having your trumpet sit around for months without anyone interested in purchasing it.
6. Be patient
It takes time to sell anything online. Even though you are using websites such as eBay, Craigslist, and Facebook Marketplace, it still takes time for people to respond to your listings. So, be patient and wait until you hear back from potential buyers.
7. Ship it!
After you get an offer, it's finally time to send your trumpet away. Before shipping it, make sure that you clean it thoroughly. This includes removing any dirt or grime that may have accumulated over time.
---
In conclusion, if you have a trumpet lying around, why not sell it?
With enough research and the tips we give you above, you can price it at a level that can bring you some extra cash from something you are not willing to continue playing or learning more.
There are lots of places online where you can sell your old instruments, and most of them will pay you cash for your instrument. Locally, could also be an option. Both with advantages and disadvantages.
Just remember to take good care of it before selling it, as it will actually influence how much you can sell it.
---
How Much Is a Trumpet Worth?
A beginner trumpet can be worth between $200 and $900 if you consider the most popular models, like the Yamaha 2330, the Bach TR300, or a Jupiter JTR500. There are less expensive models selling for less than $200, but those are usually for less reputable brands.